Slippers. Fleece robe. Glasses from 2002.
I step out of bed with a deep exhale. It's early, but that's where the magic is. I need a few minutes by myself to review the day's schedule. I check email and Facebook, making sure nothing else has come up that's going to need attention today.
Running shorts. Tank top. Ponytail.
I set out for my morning run. I'm feeling the need for a bit of a challenge today, so I choose the hilly route. There's something about waving at fellow morning people out exercising that seems like a sacred communion ritual. Rather than emptying me, the morning run fuels my day.
Yoga pants. T-shirt. Shower-wet hair.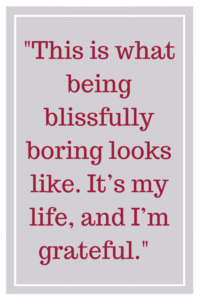 With car keys in one hand and a smoothie in the other, I shout to my oldest son that it's time to go. I'm driving carpool to high school this week. We get in the car and chat until we pick up our first rider. The rest of the drive is done in silence. How quickly I shift from being a decent conversationalist to an embarrassing mother.
When I return home, my other two children have left for school. My husband is working in his home office. I say a quick hello, then grab my computer to start my work day. Mornings are when the real work gets done.
Book writing. Client coaching calls. Business planning.
Before I know it, the morning has passed. I make myself a salad for lunch. As someone who is working hard to learn to enjoy slowing down, I force myself to sit and eat my lunch at the table. I want to taste my food and appreciate its nourishing effects for my body.
Swimsuit. Cover Up. Flip flops.
My early afternoon client arrives for a health coaching session. We have a quick conversation about how she fared vis-à-vis her goals since last week. I make some suggestions for how she can sneak more meaningful movement into her 60-hours-a-week work life. Then we go outside for a workout in my backyard saltwater pool. What a gift it is to witness someone who is really disenfranchised with her body to experience all it can still do.
I wrap a towel around myself and return to my desk. If I focus, I can knock a few more things off my to-do list before I wrap up working for the day.
Social media promotion. Emails. Outreach research.
Does it ever end? No. But I've made an honest effort at moving forward. That's really all I can ask of myself. I make myself a note about the top three things I want to accomplish tomorrow. I close my eyes and take a deep breath, signaling to myself the transition time in my day.
Sundress. Sandals. Dry shampoo.
I walk up to the neighborhood elementary school to pick up my daughter. I see her from afar, standing under the massive oak tree, conspiratorially whispering to a friend. I smile, remembering the joy of being seven with a gaggle of girlfriends. As we walk home, she tells me about her day and the secret one of her friends told her. I remind her of the importance of keeping her word, while also praying that she will always want to tell me everything.
As we're eating our cheese and grapes, her seventh-grade brother comes home. He drops his backpack, spies the snack, and tucks in with us. He doesn't say much when there's food around.
A short while later, he brings out his tenor saxophone. "You gotta hear this," he says. He plays a lick from jazz chart. Impressed, I say: "Wow…you've worked hard on that." "Nah," he responds. "I just learned it today."
I encourage my kids to get going on their homework. I call out spelling words to my daughter as I start prepping for dinner. My son does something on the computer. I'm enjoying the relative peace and productivity.
It's time to divide and conquer. My husband takes our son to soccer practice while I finish dinner prep and take our daughter to ice skating lessons. While part of me loves the idea of leisurely evenings at home with nothing to do, I know my children would drive each other (and me) crazy with no external stimulation. Besides, watching them in activities they love is a joy of parenting.
We all return home and get dinner on the table just as my oldest comes home from school after marching band. I try to ignore the overwhelming adolescent stench of my sons as we all sit down for a family meal. It lasts approximately thirteen minutes.
The kids clear the table. Mostly. My husband does the dishes. Sort of. I see there's more to do in the kitchen, but I'm ready to clock out.
Slippers. Fleece robe. Glasses from 2002.
Putting my pajamas on at the same time my youngest child goes to bed is one of the highlights of my day. I cuddle into her bed and read aloud a chapter from the "Little House" series. We're on the seventh book, and I don't ever want it to end.
The boys stay up to finish homework and watch some Netflix with my husband. I'm supposed to be watching it, too, but my eyes keep closing. I can hear the boys mocking me, but I don't have the energy to respond with more than a smile.
This is what being blissfully boring looks like. It's my life, and I'm grateful.
---
Other articles you may be interested in: