As an internationally-published journalist for the medical, nursing, rescue, aviation and military markets, one of my greatest moments was as the editor for ADVANCE for Nurses magazine where I interviewed hundreds of nurses and toured countless healthcare facilities throughout Texas. The first Chief Nursing Officer [CNO] who I met as editor was Cole Edmonson DNP, RN, FACHE, NEA-BC, FAAN in 2008 who is now the CNO at Texas Health Presbyterian Hospital Dallas.
In my mind, then and now, Dr. Edmonson is "The" CNO for the nursing profession. During several interviews, I recall him explaining that "…nursing is both an art and a science," which I stored in my mental notebook as I began my journey interviewing hundreds of nurses while listening to, observing and researching the power of nursing.
As a certified educator and corporate trainer, I have conducted workshops for nurses, and one in particular which is my favorite is "Nursing the Nurse" which includes a session called "Nurses RNcredible" as part of my services as the Chief Inspiration Officer of RNspiration Communications & Training, LLC. As a certified Zig Ziglar Motivational Speaker, I speak about the super powers of nurses primarily because nurses have inspired me to share the incredible work demands within the nursing profession.
In my nine years of observations, here's what I have learned.
Nurses are super human beings, but I must qualify the word "super" while adding another core subject to Dr. Edmonson's "art and science" reference, and that is mathematics. Nine years as a nursing profession journalist, I have grown to appreciate the "super hero" within each nurse, My purpose for my workshops is not necessarily to play on the term "super hero," although it is a fun theme that certainly brings the kid out in everyone. As I've studied nursing, the complexities of the career as well as the ever-increasing list of responsibilities of nurses, I have grown to appreciate and acknowledge that nurses must know everything about everything…on a daily basis.
For example, here are just a few of the course requirements to earn a registered nurse [RN] license: statistics, algebra, calculus, anatomy, biology, physiological, microbiology, mental health/psychology, nutrition, chemistry, pharmacology, human development, nursing science, and more.
Given the nation's nursing shortage, as well as the magnitude of roles and responsibilities as a nurse, the only way to survive a career as a nurse today while navigating complex healthcare industry is through the awareness of and the application of supernatural powers built on the foundation of art, science and the mathematics of nursing. I refer to as "Nursing to the Power of 9" or simply N9. But you won't find N9 on the periodic table of chemicals because N9 is a series of superpowers that only nurses must use to survive their shift.
The Nine RNcredible Powers of a Nurse:  
Tensile strength – resistance to a pulling force
Supernatural flexibility
Supernatural physical strength / weight lifting
Intellectual strength / methodical minded processing
Mental strength / Inner strength
Mind-body connective strength
Supernatural empathy
Supernatural endurance
Spiritual-sensory awareness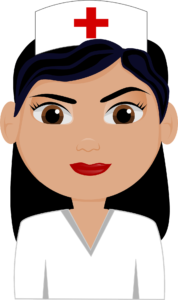 Connecting with the patient's thoughts and feelings, nurses exercise the gift of empathy and the natural abilities of human sensory. While this may not be considered traditional medicine or discussed with the family or perhaps, not even with the physician, the human-to-human connection and intuitive interaction between nurse and patient cannot be denied.
We've all been told that "seeing is believing," right? And yet, sight is only one of the five senses of humans. Using their multi-sensory knowledge, nurses have the ability to extend the physical to the mental, spiritual, emotional. Nurses don't just rely on the "see it to believe it" application because they can feel it and believe it. Connecting with the thoughts and feelings of others is powerful.
In his book, "Let Your Life Speak," Parker Palmer mentions the concept of "creative tension" which he explains as the interconnected state of living and dying simultaneously every moment of our lives.I first learned of Parker Palmer from Dr. Edmonson who recommended I read this powerful book which has since been highlighted and annotated, and referenced during lessons while teaching high school students over the year.
In another powerful book, "Waking: A Memoir of Trauma and Transcendence" by Matthew Sanford who so poetically wrote: "My body has much to say, and it needs acknowledgment." Sanford stressed the importance of "being heard" by his doctor whose mindset was dictated by the traditional and the conventional, and remained closed to listening to his patient. Sanford explained that "the death of a loved one sets so much in motion: grief, a sense of loss, tears, anger, a transcendent sense of loss, an appreciation of the present moment, a desire to die to be with them." He also explained the power of connecting his own mind with his own body in terms of physical movement.
Nurses are forced to not only see death, but they must feel death, smell death, taste death, and yes, even hear death. The silence is rarely a quiet experience for a nurse whose mind is hard at work connecting the mind and body, her mind and her patients body. But the nurse must first connect her own mind and body. If but for a second, they are one in that sacred moment of death. The last breath of the patient inhaled by his nurse. The mind-body connection is real and it is powerful.
In the inspiring and thought-provoking documentary, "InnSæi – the Power of Intuition," directors Hrund Gunnsteinsdottir and Kristín Ólafsdóttir share their soul-searching, global journey to uncover the art of connecting within in today's world of distraction and disconnection. It is essentially the science of art within the art of science while explaining the medical benefits of art and the power of the human spirit when humans are willing to connect with one another. This powerful documentary states that the human brain is composed of 85 billion nerve cells, and yet, as humans we use only 10%.
Nurses teach us the importance of how to accept being human. Nurses reveal that we are all connected, and we all have the opportunity to connect every moment of the day.  We have the opportunity to develop deeper meaning in our lives, create more opportunities to understand others, ourselves, our children. With understanding, relationships are less demanding. The power to connect is present. The healing is available. If we could take our cues from those powerful human beings called nurses, we might become the recipients of super powerful connections that just might stimulate the other 90% of our brain's nerve cells, and provide the healing energy, the superpowers we need to live our lives, maybe even nine lives.
---
Nine articles about a few nurses I've interviewed during my nine years as a nursing profession journalist and the superpowers I observed:
Music man.
The oncology nurses at Texas Health Resources Hurst-Euless-Bedford [HEB] that were awarded the "Best Nursing Team" in 2010 when I met one nurse who played the guitar and sang to his patients ringing true to Dr. Edmonson's statement about the "art" of nursing.
A heart-mind connection.
The nurse who helped Randy and Jai Pausch cope with the psychology aspects of end-of-life care by connecting hearts and minds.
Fighting a mind field.
After retiring from the U.S. Army Nurse Corps, this nurse leads clinical investigations to help a military medical research team to identify specific treatments for military veterans exhibiting PTSD and TBI.
Power in numbers.
The strength of nurses to push healthcare reform through with viewpoints from nursing leaders in Texas, Louisiana, Arkansas and Oklahoma.
The science behind genetics.
A nurse who studied cancer risk perceptions and the experiences of mutation-negative women within history of breast or ovarian cancer [HBOC] families researched at the National Cancer Institute.
A nurse-to-patient ratio of 1:1100.
The school nurse who can have up to 1,100 "patients" every day in the form of students who test the school nurse's mental strength among other superpowers while she assesses the art, science and the mathematics of each nurse's pass.
Safer care through science.
An Army nurse educator who has spent over 20 years in Evidence-Based Practice research bringing clarity to science to make care safer.
The strength to let go.
The team of hospice nurses who know when to let go and trust another team member for support so that the entire team as a whole can better manage their emotional output delivering a greater level of care to their patients.
Increasing funding and faculty.
The power of nurses who united a coalition, the Texas Nursing Workforce Shortage Coalition, in order to lobby the State of Texas legislative system generated more funding, more faculty, more nursing students as explained by a dean of nursing and nursing professor.