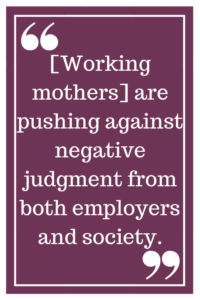 We have heard a lot in recent months about sexual harassment and gender discrimination in the workplace, thanks to the #MeToo movement. But one form of gender discrimination we don't hear a lot about is the deeply ingrained antimotherhood bias that takes a heavy toll on women's pay and careers. Antimotherhood bias includes bias and discrimination against pregnant women, as reported by Natalie Kitroeff and Jessica Silver-Greenberg of the New York Times, who share a range of painful stories of women being fired or demoted for being pregnant. It also includes bias and discrimination against women once they have children, which is often casual, open, and unapologetic, according to Katherine Goldstein of the New York Times, even though this discriminations is illegal. This systemic bias is found in large corporations, such as Merck and Walmart, government organizations, and small businesses. Claire Cain Miller writes that antimother bias may account for most of the stubborn gender pay gap. Miller, Goldstein, Kitroeff, and Silver-Greenberg note these recent findings:
Research regularly shows that mothers are routinely viewed as less competent and committed to their jobs, even by other women, despite evidence to the contrary. This bias can result in women being bypassed for promotions, high visibility assignments, and bonuses when they have a child.
A study published in the American Journal of Sociology found that in instances where job candidates were equal in every other way, being a mother reduced the chance that a candidate would be offered the job by 37 percentage points. The recommended salary for mothers who were offered the job was $11,000 less on average than for childless female candidates. This hiring bias does not affect fathers at all. In fact, fathers tend to make more money than their childless male counterparts.
Couples today tend to have similar incomes at the beginning of their careers until their first child is born. Immediately after the first birth, the pay gap between spouses doubles, entirely driven by a drop in the mother's pay, while men's wages keep rising.
When women have their first child between the ages of 25 and 35, their pay never recovers, relative to that of their husbands. This is less true if the first child is born before 25 or after 35 because the woman's career either has not yet gotten started before 25 or is already established by the time she is in her late 30s.
Each child chops 4 percent off a woman's hourly wage, according to a study conducted in 2014 by the University of Massachusetts at Amherst, and the pay gap grows larger for each additional child born.
Even in families in which both parents work full time, women spend almost double the time on housework and childcare. This often means that women work fewer hours, are paid proportionately less, and become less likely to get promotions or raises.
Why don't women speak out about being passed over for promotions, visible assignments, and raises because of motherhood? Goldstein suggests that women may feel they have more to lose by speaking out. Women who are trying to have both a career and a family are pushing against negative judgment from both employers and society. They may internalize this judgment and feel guilty—and they have families to support and cannot risk being laid off or further penalized. Many lawsuits are working their way through the courts, and the Equal Employment Opportunity Commission has had more complaints filed in recent times than ever before about discrimination against working mothers, but we still don't hear much about this issue.
What will it take to bring about change? Miller points out that more women running for political office may mean that this issue gets addressed. For example, Senator Tammy Duckworth recently became the first United States senator to give birth while in office, and she subsequently fought for changes in accommodations and practices, such as availability of a lactation room, to support mothers in the Senate. Research has also shown some other policy changes that can help women who are mothers:
Programs to help women reenter the workforce
Flexibility in when and where work gets done
Subsidized childcare
Time off for men after children are born so they can spend more time on childcare
Women may need to share their stories in a #MomsToo movement. What are your stories?