Inspiration
A Tale of Two Cities: Dallas and Amman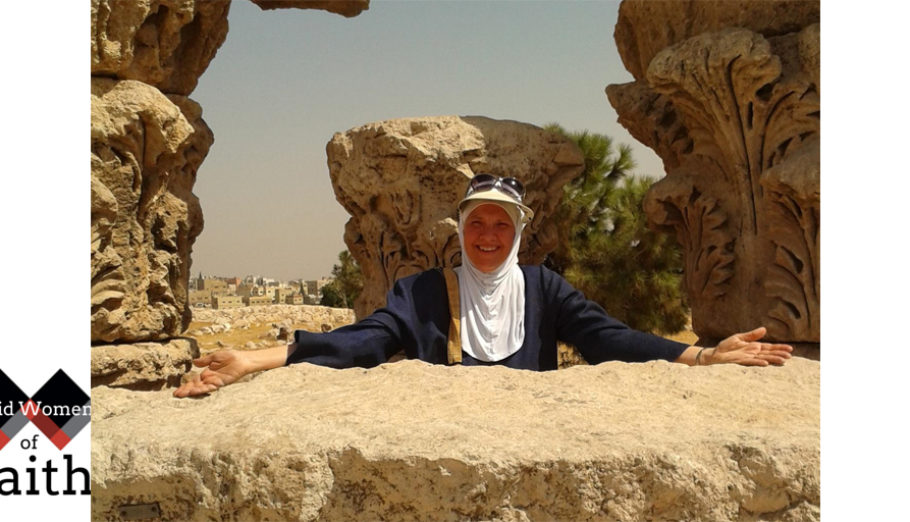 It was the best of times, it was the worst of times.
Life in Jordan. I am constantly asked, 'Do I like it here or there better?' A tough question as I sit so conflicted about returning to Dallas from my latest stay in Amman.
I am blessed and privileged to live life with a foot in both places. Although I've called Dallas home for over ten years, I have been traveling back and forth to Jordan for more than twenty. Amman might well win the title of 'home'!
For years I tried to be an Arab. And I can tell you that didn't work! After embracing Islam, my Muslim friends were eager for me to "complete my religion" and tie the knot with a nice Muslim guy. And so I found one; a displaced Palestinian who grew up in Kuwait after his parents emigrated there in the 1960's , then migrated again to Jordan after the Iraqi invasion of Kuwait.
The percentage of Palestinians in Jordan is far greater than the original Jordanians who were once mostly Bedouins. Nomadic tribes still exist here. They make bi-annual treks from winter near the Dead Sea, for its warmth, then head for the cooler, summer climates in the City of Seven Hills (Amman), the original Philadelphia. Their tents dot the landscape of the city. Shepherds still herd their flocks through ultra modern neighborhoods, stopping traffic and delighting (or annoying) young and old alike. I once mistook the approaching sound of the patter of hooves on my street for raindrops! Highly unlikely during the rainless Jordan summers.
Visiting my husband's family became our own yearly, summer journey. When our son started grade school, we took the plunge and moved to Jordan so he could experience and embrace his Arab family, language and heritage.
It's surely character building to be able to juggle two homes and two cultures. (So now you know my secret!) I have the most incredible expat friends here. In cosmopolitan and diverse Dallas, I have Muslim friends, born into the faith, from all over the world, but I get to meet new Muslims from all over the globe in Amman. We share English as a common language and so much more: adapting to Islam, to hubby, to his family (imagine a mother-in-law with whom you do not share language, nor culture, nor food – and there is only one way to slice a tomato and it's hers!), to culture, and language. The list goes on. Some friends seriously know no other home after 30 years in the trenches here. I so admire them for their tenacity and ability to not only make it, but thrive. All this creates quite a bond between us that has stood the test of time and distance. There's not one Mean Girl in the bunch!
Adapting aside, Jordan is a little gem of a country. It offers a high mountain desert climate (hot, dry summers with cool nights and at least one snowfall each winter and mountainous terrain that plunges to the lowest point on Earth, the Dead Sea (you really can float while reading the newspaper!)
There are much in the way of historical and religious sites to take in, and all within easy reach by car. The views on the drive down to the Dead Sea are spectacular. You can then head back up toward Ma'in Hot Springs, get an awesome view of the Holy Land, then plunge down a twisty- turny, stomach lurching 5 kilometers to the natural hot springs and relaxing Evason Spa and Hotel: my favorite getaway.
There is the famed, red rose city of Petra, intricately carved out of the mountains, and nearby Wadi Rum, with its eerie, desert, lunar-like landscape. One local advertisement quips, "Why settle for a 5 stars hotel when you can have 5 million! Book a tent for the night and be star struck!"
Also not far from Amman, visitors can visit the mosaic city of Madaba where centuries old tiled floors are still excavated, then visit Jerash, the eastern-most ancient Roman outpost with its colonnaded streets, temples and amphitheaters. Summer music festivals are still held there each year. Jerash even boasts chariot races and a gladiator show, but it you're hoping for the likes of Charleton Heston or Russell Crowe, don't hold your breath.
One my favorite haunts is the Balad, or city center, home of the traditional Arab souk, with its thousands of tiny shops. Here you can buy anything from the traditional to the practical and then some. Grab a freshly squeezed carrot or guava juice from a street vendor and marvel at the sights, sounds and aromas. Be prepared to bargain with shop owners as that's how it's done. Buyer beware, however, if your eyes are blue and your grasp of Arabic non-existent!
As for daily life, traffic is a nightmare and stop signs exist only to be ignored. Taxi rides can be a wild, Six Flags over Amman! With added summer guests from the hot and humid Gulf countries seeking the cooler , dryer Jordan nights, Amman streets were never designed for the numbers of cars that choke its roadways. And there is no why or wherefore in the design of the winding streets except that they might follow the original goat paths!
The utilities that we take so for granted at the push of a button or the turn of the tap in the U.S. are quite another thing in Jordan. Water comes in from the city once a week and how much you get depends on the number of storage tanks on your rooftop. It is so not pleasant to run out of water! Gas, that fuels stoves and oil for heat, must also be delivered. Many friends related hearing what they thought to be the jingle of an approaching ice cream truck, only to discover it was the gas man with his cargo of kitchen size tanks. Since there is no gauge on the tank for how much gas is remaining, you are guaranteed to run out just when you are expecting the in-laws for lunch!
Houses, mostly apartment buildings, are made from the rocky soil that's ground into concrete. Homes are cool enough at the start of summer but heat up as temperatures hit their peak in August. They are excellent conduits for cold as well. I find the winters without central heating almost too cold to bear! Again, one must call the gas and oil man to deliver a tank or two. Plan on gas, oil and electricity, all going out when a snowstorm hits.
A snowstorm, with all of Amman's hilly streets, brings the normally bustling city to a quiet standstill, while kids of all ages run out to build snowmen, stage snowball fights and use mom's cookie sheets for sleds! Those fool heartedly enough to attempt driving, stage grotesque ballets as they slide and bounce off cars and other items in the road! (Quite humorous if you are watching from the safety of your apartment window!)
Fresh food is phenomenal after all the GMO and processed food products we bear with in the U.S. How such incredible tasting and abundant crops grow from the rocky soil is truly miraculous! Trucks bring fresh fruits and vegetables daily to the cities from the agricultural valleys. The aroma entering a veggie stand is better than any perfumery in my book!
So that being said, where is home? As a dear American-Jordanian, co-adaptor told me, home isn't necessarily one place. I am so blessed to know Amman as my 'other' home. Ahlan wa sahlan! The welcome mat is always out!