Origin Bank's Women Leaders of Today: Amanda & Kendahl of Blue Quail Clothing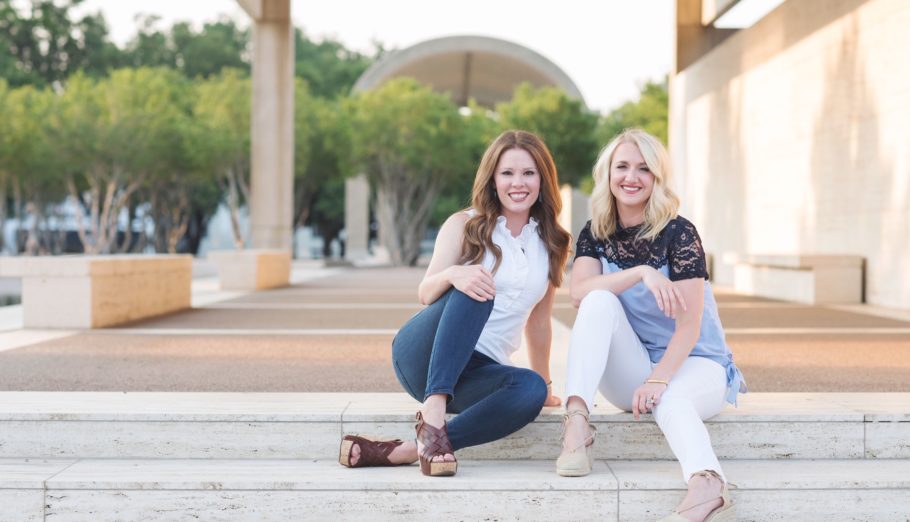 Plaid:  How did you first get the idea for Blue Quail?  What was the timeframe from idea to the retailer?
Amanda: I first had the idea in 2014 when I had several friends having boys and the boys clothing options were less than desirable. I thought, "Where are the just-like-dad- looks for kids?". Fast forward to 2015, after having the twins, I also became aware of the need for sun protectant clothing. We're both big outdoor families so we spend a lot of time outdoors and found there was no UPF 50+ clothing options for kids that wasn't swimwear. Slathering sunscreen on your kid just to lay them down for a nap a couple hours later is not fun for anyone. In 2016 we really dove in deep with finding manufactures and starting the sampling process. We went to market in August 2017 where retailers could place pre-orders for the following Spring/Summer season. Our brand was finally available to purchase at 25 retail locations in January 2018.
---
Plaid:  Did you know anything about clothing manufacturing?  Did you receive mentorship from others along the way?
Amanda: We knew nothing about clothing manufacturing. I spent countless hours doing research and kept coming across this woman named Mercedes Gonzales from various sites who appeared to have a wealth of knowledge. She owns Global Purchasing Group in New York City. She does a ton of seminars and travels the world educating both designers and buyers. We signed up for her program where she mentors you from concept to development all the way to sales. Another mentor is my father. He too is an entrepreneur and deals with manufacturing overseas. His pumping units for the oil and gas industry that he designs and manufactures is a far cry from clothing but his wealth of knowledge communicating overseas has been priceless.
---
Plaid: What are some things that surprised you or you learned along the way?
Kendahl: Our fabric (UPF 50+) and product is manufactured internationally. Learning the business practices of our international partners has absolutely been a learning experience. Aside from the language barrier and time difference, there are also the non-mutual holidays and an overall disconnect that comes with being on different continents. As a result, we are in constant communication with our international partners to be sure they are able to produce to our desire.
---
Plaid:  How do you keep on top of trends and customer tastes?
Kendahl: Amanda and I both have the pleasure of being moms, which allows us a great perspective of clothing trends and clothing functionality. This is also our business, so we spend as much time as we can reviewing trends and pooling our creative energy to keep our designs fresh. We work with a graphic designer (another Mom!) to help bring our ideas to life and then sample the designs to see if our retail customers share in our excitement. We've had a few designs that we love but aren't adopted by our retailers; in this situation, we have to follow the market demands and table the design.
---
Plaid: Branding and social media play an important role in all companies. How does Blue Quail interact with customers? How do you keep your brand consistent?
Amanda: We mostly use Instagram to interact with our customers. We have a Facebook and post to it as well, but we have found most of our interactions come from IG. In everything we post on social media, we ask ourselves, "Does this reflect the outdoor lifestyle or integrity of our brand?". Keeping our brand consistent hasn't been a challenge since we have such a specific mission.
---
Plaid: Tell us a bit more about your partnership. How did you meet? Is being in a business partnership like being married?
Kendahl: We met by virtue of a mutual friend. Amanda lived in Austin at the time and I had a house in Fort Worth. Recently engaged, Amanda's fiancé lived in Fort Worth and she needed a place to live until they wed. Our mutual friend knew we would be the best of friends and helped sync us up. From there we learned we had an unusual amount of commonalities and became quick friends. After we married our husbands, moved into our family homes and had babies we decided to launch BlueQuail Clothing Co. We promised each other when we established the business that we would always do what is best for the business and always stay true to our friendship. With all the difficult decisions, tough conversations, and rollercoaster of owning a small business we have stayed true to our promises.
---
Plaid:  How do you play off each other's strengths?
Amanda: While we both have a strong will to succeed and a lot of our strengths overlap. One of my strengths is color story and giving our collections design balance. We both are very creative people naturally so we both have input but I spend hours putting together season inspiration boards to give us a visual for a direction to go with our graphic designer. I also have several years of retail experience. By age 21 I was a store manager of a major chain children's retail store. That experience really helps me make business decisions with the retailers in mind. We are a wholesale company so it's important to keep our retailers happy. One of Kendahl's strengths is making good business decisions related to money and growth. I tend to be more emotionally attached to things like designs and she's always there to remind me what's best for the growth of our business. She's the numbers girl, although I know it's no ones' favorite part of owning your own business, she is excellent at it and very business savvy. Lastly, Kendahl has been in sales for her entire post college career. She's very good at setting goals for us and helping us achieve them.
---
Plaid:  What advice would you give to other women about starting their own business? What advice do you wish was given to you?
Kendahl: Work hard, love hard and pray hard would be my best piece of advice. Do your research and be thoughtful about your decisions. Every business is different and will require different components, but if you take it one piece at a time and believe in yourself, you can do it!
---