Inspiration
The Lost Art of Discourse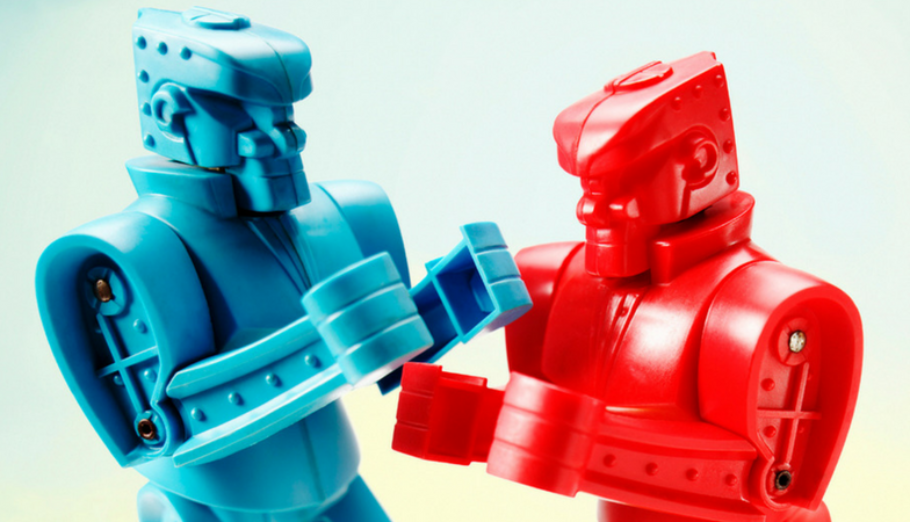 Why can we not talk to each other about our differences in politics, religion, and culture? We are more similar than we choose to recognize. All sides of these topics are so hardlined that it is challenging to have a rational conversation with people. We have found ourselves in a place where we will eliminate individuals from our lives if they have a different viewpoint politically. That only compounds the problems we are having in our community and country in a way that causes further isolation from discourse. Tolerance and political correctness have changed the way we talk to each other. We need tolerance, and yes, we need to maintain a certain decorum when speaking about politically charged issues, but that should not cause us to quit talking about those issues. It is okay to say something that makes another person feel uncomfortable. Growth and positive change come when we get comfortable with the uncomfortable. We must learn to accept criticism without dissolving into anger and despair when someone has a different take on a sensitive or controversial topic.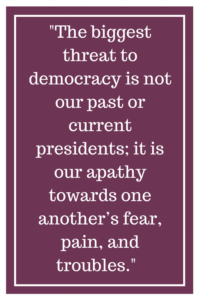 I found the Fort Worth Chamber of Commerce's annual keynote speaker, Christopher D. Lloyd of McGuireWoods Consulting, to be refreshing and interesting while touching on topics that a lot of my friends and neighbors shy away from in their daily interactions. He discussed how politics impact communities and how we need to conduct our business in a more transparent world. Discourse must be a part of that conduct. He went on to discuss how we have forgotten to consider the Gen Xers and their contribution and power to the community. When those that are leaders and bosses in communities are no longer feeling a part of conversations and decision making, we get scared, and that fear breeds unnamed resentment that further breaks down communication. It was tongue-in-cheek to some extent but had so much truth to it when he said, "Gen Xers will be deciding and designing the retirement communities of the baby boomers and will be the bosses of the Millennials," so we need to pay closer attention to their thoughts and needs. Transparency and vulnerability are intrinsic to the needs of a thriving community like Fort Worth and a State like Texas.
Fort Worth is an example for so many communities, and we are growing every day. Now the 15th largest city in the country, we should strive to be one of the best examples out there when it comes to discourse about something as vital as politics. We aren't shying away from discussions of racism and sexism in our city, we are having the hard conversations. Those conversations may not be perfect, but they are happening. I know we can have the tough conversations with each other about what we are feeling about a political view without losing people in our lives. For those that say I don't talk politics or religion, we are missing out on some critical discussions of value and insight that could contribute to moving our community forward. How do we start? We can react with empathy, compassion, and appreciation when someone chooses to share their views and thoughts with us. We can actively listen, not to respond, but to hear. Don't attack them. State who you are and what you think. If someone they respect as a leader is causing you or people you care for pain, tell them about that pain in a way that allows them to be empathic and appreciative. Empathy does not mean agreement; it means we can identify with them and their journey and vice versa.
I do not make decisions based on someone's politics, religion, or culture when I decide to engage and build a relationship with them. I make decisions based on kindness, service to their community, commonality in our work, or if they're funny or not! I am a sponge for learning new things from people around me. I am disheartened by the angst and lack of discourse I observe in my personal and professional life through daily interactions and social media and I feel powerless to do anything to improve what I observe. I want to understand and support my friends and neighbors regardless of what they believe. I know fear is driving a lot of the interactions I am witnessing, but only knowledge debunks fear. Progression and changes cause anxiety, and we must support each other through those times and help each other understand our pain and fear. We sometimes vote and support political leaders that are not in our best interests (regardless of political affiliation – no party is immune) and we do this because we are not discussing our thoughts, concerns, and needs with one another. We may not change each other's minds, but we can understand through empathy and respect what the other is going through and still be friends and colleagues. Michael Sandel of Harvard University says, "democracy does not require perfect equality, but it does require that its citizens share in a common life." The biggest threat to democracy is not our past or current presidents; it is our apathy towards one another's fear, pain, and troubles. Our silence is deafening, and our ranting is meaningless.
Obama nor Trump are going to take me to the doctor, sit with me when I'm sad, celebrate my successes or call to check on me when I have been out of the public eye for a bit. The people that support me in my life and the causes I love come from all types of political affiliations, religions, and cultures. In local politics, which has the most influence over my life and the lives of those I care for, I find political leaders to be kind and generous, even if I didn't vote for them. I am their constituent and they are my neighbor. I respect and appreciate them whether I voted for them or not. They have the guts and backbone to stand in front of the world and say who they are and what they stand for and that takes something special, whether you like them or not. Is every politician perfect and genuine, well I suspect no they are not? If you do not like the politicians representing you, then you should mobilize your resources and vote someone else in or run yourself. No witty or crude hashtag will solve what is troubling you, it will only further alienate others from you. Arrogance begets arrogance. That is when the story gets very troubling very quickly. Only good old advocacy for your causes and beliefs will help what ails you. Our civic duty is to be informed, learn from one another what our needs are, and vote accordingly. Vote your conscience, but know I respect you even if I voted differently than you. You are my neighbor, and I will sit with you when you are sad, I will celebrate when you have success, and I'll notice when you have been out of the public eye for a while.
---
Other articles you may be interested in: