In America, we pride ourselves on our originality.  Yes, being an original is important; however, feeling like you are part of the village you live in is also a fulfilling feeling.
There is no "I" in team.  It takes all of us working together to create a good life where we live in a village of hope and happiness.  We need to all work together to build a better tomorrow.  As Hilary Clinton famously said, "It takes a village."
This is why support groups are such a helpful way to gain confidence and feel connected.  When you are able to open your heart and your voice to others who share similar qualities, you feel like you belong.  Belonging to a cause is such a comforting way to live.
I believe one of the secrets to life is feeling comfortable in your own skin.  To be able to share your gifts with a similar team or village of your peers is definitely a blessing. As Shakespeare said, "To thine own self be true."  Every year that you experience life, you learn how to better roll with the punches that life deals you and stay positive.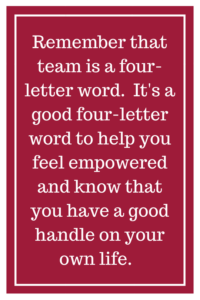 When you listen to others, really listen with an open heart and mind, is a powerful way to make other people feel heard and vindicated.  Don't listen with half an ear while you are planning what you will say next.  Truly listen and be an active listener and nod your head in agreement while you give others the privilege of hearing their feelings.
You don't live an honest life, you merely exist, when you don't give others the benefit of the doubt.  To be a part of a team is a way to feel that you belong here on earth and you have a purpose.  By listening to others, you will learn how to help heal their hearts; and, in turn you heal your own heart.
Remember that team is a four-letter word.  It's a good four-letter word to help you feel empowered and know that you have a good handle on your own life.  Being part of a team helps build your confidence and that makes for a winning team!
Today, with so many online presences of different ideals, it is much easier than it used to be for us to connect with each other.  Be sure that you act in a positive manner when you interact with people online.  Remember, "Words can hurt."
Be open-minded to your new team online and think carefully before you respond.  That is how you will become a respected member of the team.
So, Google, Facebook or link in to the groups that call your name and you will indeed feel part of a team.  To be the best "you" that you can be, connect with your fellow (wo)man and join their team.  You will feel like you can conquer the world and remember what Hilary Clinton said, "It takes a village."
And finally remember that there is no "I" in team.  Be a part of the solution and live a fulfilling life!
---
Other articles you may be interested in: