About Plaid
We are women who want to #BeHeard just like you!
You live day in and day out on information overload.  We wanted to create a place that would get rid of the noise and give women a place to say what they wanted to say.
We chose the name Plaid because we are all individual strands, but when woven together we become connected and our message stands out!
---
Connect with our Team

Shivaun Palmer
CEO & Founder
Shivaun's vision to create a platform where women could connect, provide resources to one another and be accepted for who they are has been years in the making.  Plaid for Women is that transformational media company offering substantive content on the "Business of Life".   Real Content for Real Women.  And oh, by the way…there are #NoMeanGirls allowed at Plaid.
Sarah Webb
President
As President Sarah runs the day to day operations for Plaid for Women. She is passionate about providing a platform for women to #BeHeard. Sarah is married and has two children one who aspires to be a secret spy ninja and the other wants be a doctor for toys like DocMcStuffins.
---
Tawny Branaman
Manager, Web Content Support and Admin Ninja
Tawny helps keeps things moving and straight behind the scenes.  She corresponds with our featured bloggers and schedules our content to be posted at just the right times. She handles our newsletter and a zillion other things. We cannot thank her enough for her organization and skill!
Kalee Wulfers
Plaid Community Connector & Events
Kalee is a people lover and travel lover who has a deep passion for encouraging others to live in the NOW! She believes that living a balance between pursuing individual goals and giving back to the global community is what each of us is called to do every day. When not planning events, Kalee enjoys writing and time spent exploring the world.
Ashley Garcia
Social Media Intern
Ashley Garcia is a mass communication student majoring in journalism with a concentration in digital media at Texas State University. Ashley has a passion for news, social media, traveling, writing and taking long walks to the coffee pot. She lives each day with the desire to empower women and change the world by using her voice.
Koula Budler
Plaid Purpose Host on Plaid Radio
South African born radio and television presenter, Koula Budler, relocated to Fort Worth, TX four years ago, bringing an extensive 12 years of national broadcasting experience with her.
Koula's career in broadcasting began during her university days. Whilst studying Journalism in Johannesburg, enthusiastic music lover Koula joined her campus radio station and was soon discovered by a retail station. The campus and retail stations provided Koula with invaluable experience and upon completion of her degree, she was offered a job at national Top 40 radio station, 5FM. During the eight years that Koula was with 5FM, she hosted their flagship shows – the 5FM Top 40 as well as the World Chart Show – and hosted prime time shows on their week day lineup. She became well-known for her formidable music knowledge and was sent to cover music festivals across the globe.
It was during this time, that television job offers started pouring in. Koula has hosted several tv shows including relationship talk show, "We'll Decide", music show "Psalted" and most recently, MNet's glitzy magazine show "All Access", where she covered glamorous events like New York Fashion Week and interviewed everyone from John Travolta to Liam Neeson and Sam Worthington.
Koula left 5FM in July 2010 and joined regional radio station, 94.7 Highveld Stereo where she hosted the weekend afternoon shows and continued working as a voice-over artist, MC and club DJ. Koula resigned from 94.7 Highveld Stereo in November 2012 when her husband was offered work in the USA. They are settling into the Fort Worth lifestyle and enjoying making it their new home.
Besides her love of music and broadcasting, Koula is also a keen ultra-marathon runner. She has completed seven Comrades Marathons (one of the world's toughest ultra-marathons at 89km/56 miles) to date – running all of them for charity.
Koula was the South African ambassador for Positive Women, a non-profit organization that works with communities in Africa and the UK to support them to live informed, productive and empowered lives. She is mad about food (cooking and eating it!) and grows her own herbs and veggies -which she finds very rewarding. "I'm not sure if I eat to run or run to eat but it's a healthy partnership, either way!" she laughs.
---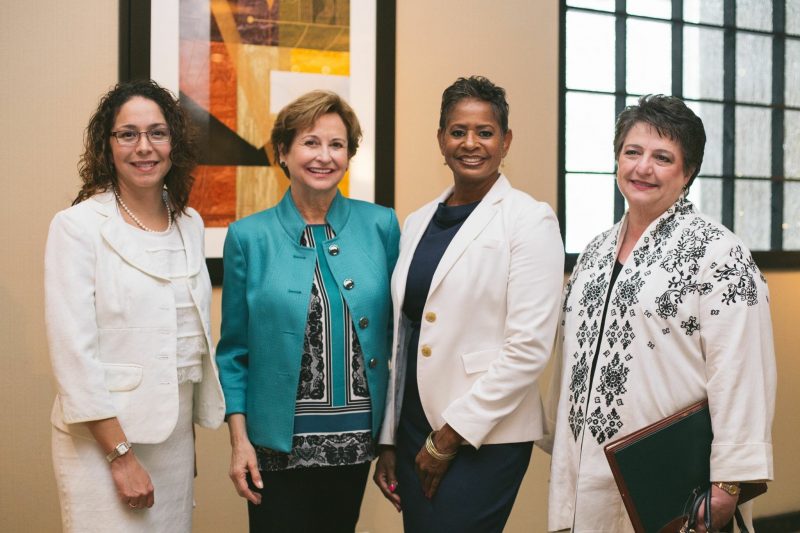 Featured Speakers at Plaid's 2016 Women's Equality Day Luncheon.  (L to R) Jennifer Trevino,  Nancy Jones, Yolanda Harper and District Attorney Sharen Wilson.
And Our Members!
Plaid for Women wouldn't be what it is (and what it is becoming) without our members. These passionate women write amazing, in-depth articles on life, business, and acceptance that inspire others and spark positive change.
We know YOU have the potential to do the same. Getting started is easy. Your first step: Become a Plaid for Women member today.  It's Free!