Hot-house flowering plants are cultivated for a particular purpose. But as beautiful as these flowers can be, they don't transplant very well because of specific temperatures and moisture needs.
Have you ever observed the beauty of a flowering cactus? Seems like their prickly spines are there to protect her most prized possession. Unlike most blossoming plants that require consistent water, succulents have a special water conservation design and resilience that allows them to bloom, even in the desert. Somehow they patiently send their shoots deep underneath the dry hard ground to search for precious water, their link to survival and beauty.
Succulents are a hardy type of flowering plant that is beautiful even when circumstances are tough. Likewise, many women are thriving because they are protecting their heart in the midst of this challenging time, keeping a guard on what outside influences they allow into their homes and what they don't, choosing not to walk in fear. As a result, their lives are blooming more like that succulent as they drink from those deep wellsprings of life that can still be found, even in the desert.
Some of the secrets of this type of living during this thirsty unsettling time can be found within an acronym from the word resilience
R-Resolute Living-Resolve that you won't be robbed of even one precious day, but will choose to find peace within the current reality to thrive and bloom.
E-Energized Living-Your heart loves to be energized. When is the last time that you took a walk or watched a beautiful sunset to remind you of the beauty all around us? Such times feed our very soul!
S-Surpriseful Living-When is the last time you looked for a way to surprise your friends or family to lift their spirits?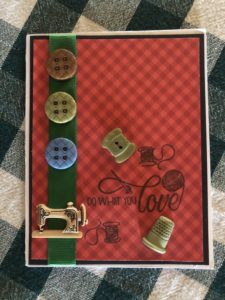 Do you still have traditional cards for birthdays, get well soon, or thank you's?  Try your skills at hand-made cards. I just received one last week from a dear sister with a sewing enthusiast theme, and it certainly made me smile.
I-Investigative Living-What have you always wanted to learn? Calligraphy? Cross Stitch? Hang Gliding? One of the ways to keep your spirits up during a tough season is to challenge yourself and investigate something new. When the human brain is focused on learning new content, as one psychologist described, "This neuroplasticity builds new connections between our neurons". Another described it as "the possibility to reinvent yourself" (Bergland, 2017). Are you ready to investigate who you want to be?
L-Lighten Up Living-Finding humor in everyday events keeps us young! Did you love jokes or riddles as a kid? Have you shared your favorites with kids or grandkids? What about sharing silly riddles with coworkers to make them smile?  Maybe even a two-part email to give the riddle reflection time to build!
I—Initiative Living-I'll never forget my first official secretary job. During the interview process, the boss told me he was looking for someone with initiative, someone who would find what needed to be done without being asked to do that task. I told him I certainly could do that, and I was hired. Then came the hard part: Every day when I got to work, after I finished all assigned tasks, I had to figure out what else was needed, but through it, I learned initiative. Are you taking initiative to reflect on your own needs?
E-Expectant Living-Years ago, I was in a season of expectancy, a daily feeling of wonder. I was trying to explain that feeling to our young granddaughter, Vienna, and exclaimed, "I am just so pregnant with excitement today about what God will do?" Half-listening at first, she quickly swung around and turned to face me and said, "Whoa! Wait! What? You are pregnant?" As I laughed, I told her not in the physical sense, but in the emotional sense, excited about the next stage I was entering. Are you?
N-Novel Living-While COVID is also known as the novel corona virus, before that negative association with the word "novel", the word used to represent a compilation of someone's talents, their life's work. Most young aspiring authors eventually plan to write a novel but you don't have to be an author to create your masterpiece.  What do you want to leave behind as your legacy? Is it your famous recipes? Your sewing or quilting creations? Your painting expertise? Maybe now is the time to share your passion and invest into others, establishing your novel for all times.
C-Creative Living-When in their early teens, our children were often called upon to prepare the family dinner. But the night that six baked potatoes with a stick of butter was all that was on the table (except for a plate and fork for each member), I realized they understood the substance of the intent, but not the essence. Yes, that could be called dinner, but adding some chives, bacon bits, shredded cheese, and sour cream would have made it more appetizing. Then, the addition of a tossed green salad with tiny cut-up vegetables, all placed on a beautiful tablecloth would have even looked warm and inviting. Are you settling for substance but missing the joy or your own creative essence?
E-Encouraging Living-Becoming an encourager is really simple, just focus on other's needs first. But the little-known secret is while you are bringing sunshine into their lives, the light of love will also shine on you and strengthen your own heart!
I hope these ideas will remind you of ways you can feed and protect your heart while on this journey together. As you incorporate some of the amazing aspects of resilience, like the succulents, may you also have the opportunity to blossom and thrive, wherever you are planted, even in a dry and thirsty land!