I am home in my office this week after a 5 week "absence" — one week spent hosting BeaverCon and 4 weeks working remotely in the home I rented on Georgian Bay.
It was an experiment, of sorts, to see if the kids and I could "make it work" with mommy (that's me) working half-days while they played endless games of Yahtzee until noon when we would eat lunch together and head out to experience some of the greatness that can be found in and around one of my favourite places in the world: Georgian Bay and the Blue Mountains.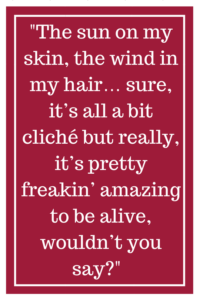 And I think I can happily report that this experiment was a tremendous success!
It was strange working from my "bedroom office" up there…odd how I hardly ever wore makeup even though I do video calls with clients…funny how I had zero "weirdness" asking my clients to hold on for a moment while I went to break up an argument along the way. It was as if I was in a different world, this world of the "working from home" mom and entrepreneur, which I have barely ever experienced due to my deep desire to have an office outside of my home for the last 10 years.
And while our afternoons were spent swimming in the pool, driving down the backroads with everything from "Sweet Caroline" to "Poker Face" blaring on the stereo, or hiking to see the incredible hidden waterfalls that grace Grey County, business still got done. And in fact, one could say it was better than ever.
I was relaxed.
Happy.
And thrilled to discover that, despite recent personal events that occurred in what I have always called my "Home on the Bay," it still felt like Home… safe …secure …glorious.
We had adventures, hiking paths we've never before trod, and winding up walking downstream through Indian River with water up to my thighs and currents rushing around us, and rocks that turned out to be turtles.
THIS is what it means to be alive.
The sun on my skin, the wind in my hair…sure, it's all a bit cliché but really, it's pretty freakin' amazing to be alive, wouldn't you say?
And in my appreciation for being alive, I found a deeper sense of delight in my children, and in my work.
I've reached a new place in my business, a place in which I am proud as hell of the 16 years I have been self-employed, but perhaps even more importantly, proud of where I am going next.
I am proud of my accomplishments, but perhaps more importantly, proud of discovering and holding dear my core values and (finally) stepping up and claiming Who I Am in my work (and my life).
I am proud of my clients' accomplishments, but perhaps more importantly, proud of Who they've Become — MORE of Who They Really Are. There are no words to describe what it is to witness such a thing as seeing someone step INTO themselves in the ways that my clients do, each and every day.
It is a delight to be alive.
A delight to do MY work, to fulfill my calling, to own my skills and my gifts. And a delight to see YOU doing the same.
So, here's to you, dear reader, to being MORE of Who You Really Are, to delighting in your work and this world in which we live. Here's to new adventures, new levels of success (however you define it), and the embracing of the limitless possibilities that exist when we simply show up, willing and ready to be delighted at every step of the way.
---
Other articles you may be interested in: