"Education is the most powerful weapon that we can use to change the world." -Nelson Mandela
Susan Hollern heard a woman tell her story.
"Left to Tell," by Immaculée Ilibagiza, is a memoir written by a young Tutsi woman who survived the brutal murder of one million people in the 100-day Rwandan genocide of 1994 by hiding in a tiny bathroom with seven other starving women for 91 days.
Meeting Immaculée
After meeting Immaculée, Susan was moved to learn more about Rwanda. Almost two decades after the horrific holocaust, the resilient people of the small East African country were rebuilding through reconciliation, forgiveness, and steadfast determination to never participate in another hate-filled attack on their own citizens. Susan believed she was to go to Rwanda and contribute to the restoration of this nation.
Susan has a heart for service and generosity. Starting in 2009, she volunteered and invested in Rwanda until she met a shop owner who inspired a new direction. The woman told Susan, more than anything, the village of Murindi needed a school.
Hope Haven
Susan is also a woman of action and influence. She met Liz, who helped her acquire land and find favor from the local leaders. By the spring of 2012, Hope Haven Rwanda established the first classes with 97 children under an acacia tree. Today, Liz is the Managing Director of Hope Haven. One of the first teachers, Priscillah, is the Director of Families. Along with almost 200 other staff, they served 900 preschool and primary children and over 500 7th through 10th grade students for the 2022-2023 school year. Last fall, the school opened the secondary school dormitories that will eventually house 960 students, and they will celebrate the first graduating class in 2025. That acacia tree stands tall with a canopy stretching like embracing arms at the entrance of the campus which has expanded to over 16 beautiful acres.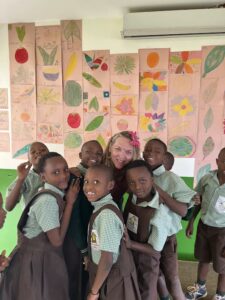 Hope Haven's goal is for all students to graduate and attend college or trade school. Their mission includes believing the investment in the children and their families will flow into the neighborhood and eventually transform the nation by providing excellence in education, compassion, and hope. Although the school is state-of-the-art and equal to first world country facilities, it is nestled in the red dirt hills of an extreme third world country village. Education is the only road out of poverty.
Visiting
I visited Hope Haven in March with my friend, Chris, who is a supporter of the school.
After breakfast on our first day, we followed Wendy (the CFO for the school who lives in the US but hops over to facilitate volunteer visits) from the guest quarters on campus to the nursery/primary open dining hall. Climbing the flight of concrete stairs, she warned us to "be prepared to be mauled." I had no idea what that meant until we reached the top step. Over a hundred preschoolers turned toward us, holding big plastic cups with thick porridge, and smiled.
"Mzungu!" Foreigners. Visitors. Wanderers. Specifically pale-skinned American women so excited to meet the children their hearts were about to burst.
The littles ran to us with outstretched arms. Hugs. High fives. Holding our hands. Stroking our hair. Walking us through the space. This was the greeting every time I encountered any group of nursery or primary students. I asked Wendy if these children were desperate for attention from us because they did not receive the affection at home. She explained that if the parents were over 30 years old, they likely survived the vicious 1994 genocide and were placed in orphanages or raised by strangers or neighbors where they did not experience family love.
Learning
The first three things the children learn at Hope Haven is that God loves them, their teachers love them, and if they need a hug, they get one.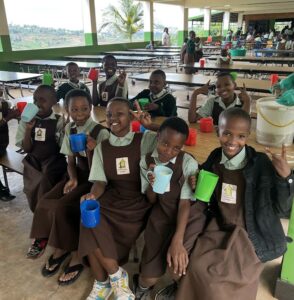 Hope Haven Classes are taught in English, one of the two official languages in Rwanda. The students also learn French and Swahili and their native language, Kinyarwanda. Six talented secondary students have advanced through national and international competitions in debate and creative writing and will represent Hope Haven and Rwanda this fall in the Tournament of Champions at Yale University. Hope Haven kids study with fierce resolve. They play football (soccer) with dedication and joy. And they dance. Oh, do they dance. From the youngest to the oldest, dance is an integral part of celebration, play, and worship.
Sponsor
Before I left Hope Haven, I met the most lovely and shy fourteen-year old girl who I will now sponsor until she graduates. She loves orange and pink and wants to be a doctor. I hope to go back next year to spend time with her, volunteer in the school, help the villagers, and teach some art classes again. Ten days on the Hope Haven campus was a life-changing encounter.
Over 1700 Rwandan kids will attend Hope Haven this school year. Each will have opportunities, experiences, and options because Susan listened to a woman's story, discovered a need, and created a safe place to change their futures.
Susan had resources, connections, energy, vision, and faith to affect a village thousands of miles away from her home. Most of our local schools have massive needs for volunteers, mentors, and supplies. Whether you sponsor a child at a school like Hope Haven or spend thirty minutes a week reading to preschoolers, the possibilities to change a life are endless.
https://www.immaculee.com/products/left-to-tell-by-immaculee-signed
Connect with Peggy here.