I grew up regularly hearing the expression: If you want to make God laugh, make plans. I think that's the tongue-in-cheek way of saying, some things are out of our control and a higher power really is in charge. Well, my take on it is that yes, there is a higher power, but He/She/The Universe wants to collaborate with us on our future.  And let's be real, you don't get ANYWHERE without a plan, an outline, an idea of what you want to make happen.
Speaking as someone who has designed her life successfully, I can unabashedly say that I made plans, I set them forth for execution, and I am where I am now because of doing so. Did ALL of my plans come to fruition? Um, no. I was not married by 26, a mom by 30, have a sitcom by 35 nor a millionaire by 40. But, and that's a BIG but – within the framework of those other plans, I did create and design the life I truly wanted.
I wanted to be in a loving marriage with a partner who was a good father. I wanted to travel the world and have work that I enjoyed that allowed me to travel WITH my family. It did not happen overnight. It took years of honing my craft, dating some frogs, and making multiple sacrifices to get here. But I always, in the back of my head, had an idea- a plan, if you will, for the design of my life.
I knew from an early age what I wanted was not going to be traditional, yet I still had to do some traditional things like a 9 to 5 job. I had a 9 to 5 job for over a decade on top of pursuing my passion- so I technically had a 9 to 3am job. Along with missing sleep, I went 'without' sometimes because I knew I would get more when my bigger picture was realized.
I also nurtured my plan by associating with people who were living their dreams. I absorbed information and knowledge from individuals and writers who spoke to me and encouraged the ideas for my plan. I cannot recommend enough reading The Alchemist by Paulo Coelho and the late great Wayne Dyer's book, The Power of Intention.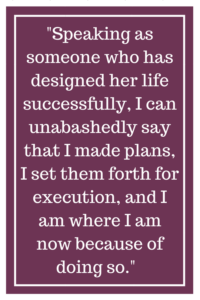 What I know, is there will always be obstacles and reasons to stray from your plans/dreams, and sometimes you do have to hit the pause button.  But you also have to have the wherewithal to hit "Play" again. Another thing I learned, and not just from a Garth Brooks song, is that sometimes you need to be grateful for unanswered prayers. God knows if I'd married who I thought I wanted to marry at 26, I wouldn't still be married, and I would have never had the beautiful children I have today- nor the level of patience to deal with these beautiful children of I'd had them that young.
One of my favorite, and there are many, Wayne Dyer sayings is that dreams are seeds God plants in us that we then can grow into reality. We don't just need faith that that is the case, we also need to do our part to follow the signs, seek the collaboration, accept the help and put in the work to bring our dreams/plans to reality.
It is possible. I am living proof. So, my advice is: Make your plans. Follow your dreams. Design the life you always imagined for yourself. The greatest obstacle you will ever have is you- so get out of your way!
---
Other articles you may be interested in: