Have you ever been so focused on surviving that the world was passing you by and you didn't even know it? When I first became a nurse, I certainly wasn't prepared for the toll that working the night shift would take. In fact, just squeezing in a lunch break, bathroom break, and drinking water throughout my shift was a challenge, for I would get so in the zone of caring for my patients, I would forget about myself, as discussed in one of my previous articles. Then the day/night adjustment started affecting my time management on my days off, but I didn't realize how much until a particularly momentous occasion!
It was the 95th anniversary for our church and a huge celebration had been planned! I had started attending this church in my youth, serving as a soloist hundreds of times for not only the services but weddings and funerals as well. Since this particular church was also in our neighborhood near the high school where we had graduated, it would also be a wonderful reunion that would bring many that had moved away from home.
So I knew I definitely wanted to attend. But since I had to work an overnight shift that Saturday as a nurse, I knew it would be hard. By the time I got off early Sunday morning, I was just exhausted! So as I was driving home, I talked myself into taking a quick nap when I got home. Once I was asleep, I could hardly talk myself back into getting up and decided that skipping Sunday School was probably a good idea, then I could still make it for church. When the alarm went off, I gave myself five more minutes one too many times, then panicked and quickly threw on some clothes and skedaddled to the church as fast as I could go.
Of course, I knew I would be late for the service, but I wasn't prepared for the crowd, for I barely found room to sit down. And once I picked up the bulletin, I got an even bigger surprise! I had just sang a solo, according to the order of service in the bulletin, and I missed it! I was really in shock, for I didn't even remember being asked to sing a solo, must less prepared for one. But there it was, in black-and-white.
The rest of that celebration day was a blur, for after the service there were multiple activities planned, including a luncheon where I would be face-to-face with my friends for whom I had sang at their weddings or mother's funeral, yet they were all so kind: In fact, no one the rest of that day ever mentioned one word about me missing my solo. It was definitely one of my life's most embarrassing moments, but it was also the first time I realized that I had to get off of the night shift, for apparently, my body wasn't dealing well with it.
What is self-care? At that time, I truly didn't understand the concept. I thought going back to working days would fix the problem, but I didn't understand the lack of priorities that lead to this event anymore than I understood how to prioritize the clothes in my closet. At home, I had kept buying new clothes without giving some away, but I was always surprised when my closet was so packed. Likewise, I had added several activities into my life (college, new nurse role, night shift) without removing or rearranging anything else. And there simply wasn't any room left in my life for self-care.
I don't know why I hadn't learned that lesson previously, for I had many opportunities. Years before as a young mommy with four little children, when I showed up to drop off our little ones in the church nursery before the service, a nursery worker delayed me, pulling me aside to speak with me. I thought I needed to hurry off to church, but she insisted on a couple of minutes of my time stating, "Cindy, your children look so beautiful today, all dressed up for church. You are such a good Mommy. However", (as she then causally stepped behind me while she continued to talk), "I see you forgot one little thing for yourself", and she promptly finished zipping my dress up all the way to the top.
Now, I had known I felt a little chilly that day and kept feeling a strange breeze, but I hadn't stopped long enough to investigate the reason why. I was simply too focused on getting our four under five years old ready for church, so I simply forgot about myself. We laughed together afterwards, but in the midst of my busyness, I really was forgetting to take care of myself.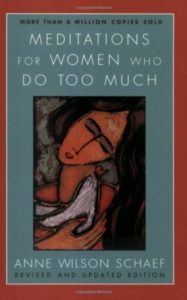 A couple of decades later when I became a childbirth educator and postpartum doula for multiples, I continued pushing myself to the limit to get one more thing done and push my personal self-care needs to the side. One of the twin moms I served in her home for a few days later gave me a daily calendar called the "Meditations for Women Who Do Too Much". I was sort of shocked that she thought I was too busy, for in my estimation; everything I did was to serve others from my family to my clients, so how bad could that be? By the way, I never found the time to read the book and explore the prospect. (Note: As I was looking for an image of this book and perused the author's website, I found out she is 82 years old with a PhD in clinical psychology and her book has sold over two million copies. At the time I was given the book, I had no idea one day I would be an author, but now I realize reading it could have lead to an opportunity to learn from an older woman who actually was an author herself. But, first, I would have needed to recognize that I was still lacking self-care!)
When I finished my nursing degree years later, a graduation note was included from two professional friends in the gift of massage oils/bath salts, acknowledging how hard I had pushed to make this a reality and how proud they were of my accomplishments. But they also said they thought the best way to start my new profession, with the degree behind me, was to turn over a new leaf, enjoying several long bath soaks and learn how to chill. (Note: I didn't take their advice. I actually put the set away, found it about decade later and then realized I had never used them. Guess I forgot to take their advice about practicing some self-care.)
So, for years, family, friends and even clients tried to point out that you can only stay in the fast lane so long, but the idea simply went over my head. I would swing from one extreme to the other: Either serve, serve, serve others with no self-care, which always resulted ultimately in burn-out. Or I would get so frustrated that it seemed everyone and everything needed me and their needs were interrupting my plans and where I was trying to go. Either way, self-care wasn't in my vocabulary. Then a few years ago, I finally faced my own mortality, and all of these life lessons started coming together for me. I finally realized the old adage that if you don't take care of yourself, you can't take care of others, and as I did, I came to cherish the opportunity to care for the best friend I will ever have, Me!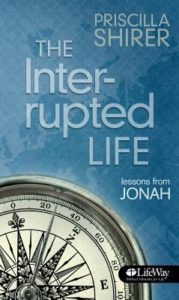 Where are you in your life journey? Are you so focused on others that you are forgetting to take care of yourself? Or do you see others' needs as an interruption of what you are trying to accomplish and still lack the balance that could come with some self-care? Whichever end of the spectrum on which you find yourself, there is a way to get back into balance. My first real breakthrough in this area of understanding self-care came from one of my favorite authors who wrote an insightful book about the life of Jonah. Yes, his life was definitely and suddenly interrupted, and it certainly wasn't a convenient time to be swallowed up, but as he came to peace with the situation, he eventually realized this was a part of the plan and would actually prepare him for the next stage of his life. So my question to you, "Are you looking for balance? Are you willing to have your plans be interrupted for something better?" If so, I hope you won't take as long as it took me to learn these lessons!