Are you so busy that you never actually take time to decide what you want to do with your life or your purpose in life? Do you like who you are and what you are doing? Do you like who is in your life? Do you like how you treat people and how they treat you?  If you are too busy to ask yourself these questions you might find that adopting a 'living intentional' mentality will help you.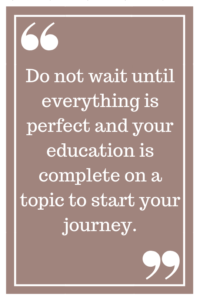 As I have mentioned in previous articles, you need to know your purpose or your 'Why' to find happiness and live with joy. If you adopt living intentionally with purpose, you find the sweet spot in understanding yourself and those around you. This does not mean that you have to have your whole life figured out, but you do need to have some direction. Jennifer of 'Simply Fiercely' says, "You can choose to be intentional about your direction without knowing your final destination."
I experienced this when I use my purpose to guide my intent. That sounds simple if you know your purpose, correct? For those of you that are so busy living your life and struggling with the meaning of it all, take a step back and think about the times you find the most peace or simple joy. Build from there. I found myself in a perpetual cycle of busyness years ago with no real understanding of where I was going. I got lost in the chaos of serving others, and it was not until I became focused and intentional about what I wanted to do with my life that I understood my purpose. I now use that purpose as a guide in all aspects of my life. It's the chicken or the egg type of question. I don't know what happened first, finding my purpose or living intentionally, but I do know that they went hand in hand when helping me determine my path forward regardless of where the road led. The key is getting started and being intentional with that start. Author, Ilyas Kassam, said, "It is more important to be of pure intention than of perfect action." This statement says it all. I know a lot of people who will not try something publically until they have perfected it privately and this hinders them.
Do not wait until everything is perfect and your education is complete on a topic to start your journey. Start small with an intentional action that is repeated. For example, I wanted to help people raise money and awareness for their causes on a larger scale because I found one of the biggest hurdles to true transformational change or impact was the proper unrestricted funding. To be able to do this I had to give a lot of work away for free to learn the process of fundraising and advancing people's mission and causes. I did a lot of volunteering and consultant services in return for assisting with other fund development efforts like special events and asking for private grants and gifts. As I became successful in those endeavors, I found my happy place was helping those who help others, and that focus gave me peace and the ability to have more substantial impacts on those causes that are important to me.
There is some debate over who said it, but the following phrase is poignant in our quest to live intentionally. "The purpose of life is to discover your gift and the meaning of life is in giving it away." – David Viscott
So I challenge you to determine one concept today you can focus on and be intentional in the pursuit of that one idea, and it may lead you to the next that thing that leads you to find your purpose and the joy of living intentionally.