Recently, my husband and I attended a volunteer fire department's annual BBQ dinner and auction. As the only fundraiser they have for the year, hundreds of people crammed into that small metal fire station to share a meal and pull together toward a worthy cause.  Long-time friends bid against each other for auction items, cakes, and pies to the tune of hundreds of dollars and would then donate back a dessert so it could be auctioned off again and again. This long standing tradition wasn't just about who would end up with the ultimate coconut cream pie that one of the women in the community was famous for making. It was about being a supportive community and raising funds for a volunteer organization, the fire-rescue services that, of course, all the participants would hope to never need. Such is just one of the traditions within the rural communities of Texas.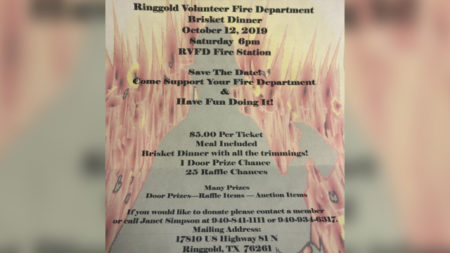 Since moving to rural Texas years ago, we have attended the Watermelon Festival, Pecan Festival, Chicken and Bread Days, Doc Holiday Festival, Muenster Oktoberfest, and a variety of other small town celebrations seeking to keep their history and traditions alive. But what is tradition other than one generation seeking to pass on to the next the ideals and customs that helped the previous generation to survive and thrive in their circumstances.
Another tradition in our little rural community is for all of the churches to come together two Wednesdays before Thanksgiving and share Community Thanksgiving Meal.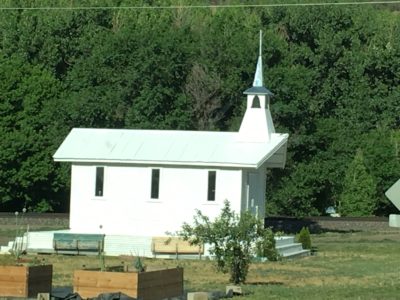 Each of the local churches takes turns hosting the celebration, whether small or large. So the gathering might include music or various programs, or it could just be the community's biggest potluck of the season with standing room only, depending on the size of the church. Either way, the tradition is meant to be inclusive, to reach out to the community and bring everyone together.
Often similar team spirits, a sense of heritage or traditions are found within a professional environment such as healthcare, where the values, ideals, and customs are to be shared with the next generation of those serving, supporting each other as they face common challenges together. But is it really that simple? What about the newcomers to that area?
A while back I went to the ER for some strange symptoms, but once I got some IV fluid and started feeling better, I begin to wonder what was the real purpose of my visit, for it certainly was an expensive way to rehydrate. Because of the ER staff's staggered lunch break, I was assigned a different registered nurse (RN) and almost immediately began to have several meaningful interactions. In the midst of my lab draws and tests, God prompted me to speak with this young RN and share that I also was a nurse and nurse educator and had followed that call on my life many years ago. My nurse then revealed herself to also be a Christian and understood what it meant to be called, but now, she timidly shared, was finding every shift was a struggle and wondering if it was just ER or possibly the entire field of nursing that just wasn't a good fit for her, for she hadn't found a sense of community yet?
All of a sudden, I realized my purpose in being in ER that day. Yes, I shared, nursing is a tough profession, but for so many reasons. Traditions are one of them and the need for community another. I shared that when you begin as a new nurse on shift work, evenings, overnights, weekends, you aren't as available to be as involved with family and friends as you once were and it is certainly difficult to be consistent with attendance and participation at your church with an ever changing schedule. You also usually had to miss at least some of the family holiday gatherings. So, inadvertently, at the very moment that you need your support system the most when you are embarking on a new career, you are pulled away from them and the traditions you once found so comforting. But I assured her, as a nursing instructor of many years, that I had seen this scenario play out in many new nurses' lives and it always took time to find balance and a good fit. I further shared that just because someone is called to serve doesn't mean they automatically will land in the specific type of nursing to which they are best suited in that first role. We then had the opportunity to explore some of her passions and discuss several other possible roles in nursing, ones that might better fit her personality, and I prayed over her before I was discharged. All of a sudden, it was like as the song says, she had permission to be okay with not being okay and to evaluate what that discomfort in her life might be telling her. I personally sat back and marveled how God used my ER visit to reach out beyond myself and help a hurting fellow nurse to find her new norm and possibly a new community where she could build new traditions.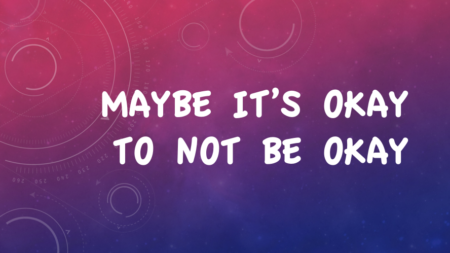 (Note: You can click on the link above to hear this particular song. The positive feedback from fans, proclaiming how much freedom they have found from this simple idea, lead this vocal group to create a website to further encourage those in the midst of transition and needing support: https://maybeitsok.com)
Sometimes, traditions have to change because of a life crisis or other transitions that have encroached on someone's personal space, whether that be from a physical ailment, divorce, or loss of a loved one. In the midst of such loss, we often wish we could get a specific message from God about what to do. One nurse I know states that is exactly what happened. As a professional nurse leader, she and her husband had moved out of state when she was offered a professional promotion and a dreamlike mountainous location, and both of them were looking forward to the upcoming challenge and adventure.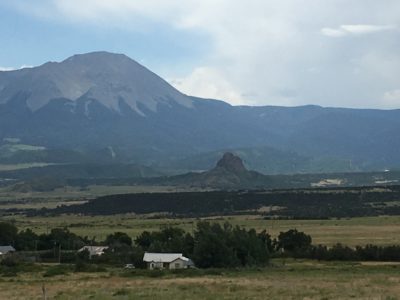 But when her husband passed away unexpectedly soon after moving, she began praying for God to show her what to do next.  She felt she couldn't just quit her job without the prospect of another, now as the sole provider in her home. Yet, with her children and grandchildren all living in Texas, she just wanted to move closer to family. Finally reconciling that God alone was truly provider, she simply laid her requests before God and left it in His hands.
When she opened her email one morning, there was a job description and link to apply for the same type of role she had previously held and with a former healthcare employer who knew her work. Since whomever forwarded the email neither signed it, nor did she recognize the email address, she began to chuckle to herself and decided it must be God's email address. She clicked the link and applied and soon, she was back in Texas with her family and friends! When I met her the next year, after hearing all she'd been through in such a short timeframe, I was surprised at her joy and resilience. But it was her gratitude for each day of life that truly shone through, for she described her journey that seemingly went in a big circle as simply God's will showing the path to bring her home again. Though her life would never be the same without her husband of many decades, she chose to embrace this new norm and create new family traditions.
Bravely facing her new circumstances, she was an example of living out the verses from I Thessalonians 5:16-18: "Always be joyful. Never stop praying. Be thankful in all circumstances, for this is God's will for you". When the Apostle Paul wrote this and many of his other letters, he was fleeing from persecution, yet he took the time to write back to the churches where he had served and be an encouragement to them. And my new friend described above also chose to be a ray of sunshine everywhere she went, even in the midst of challenging circumstances, and sought to be an encouragement to others.
Many years ago at a Christian nurses retreat, I purchased a round hand-painted rock with flowers at the silent auction with a quizzical quote: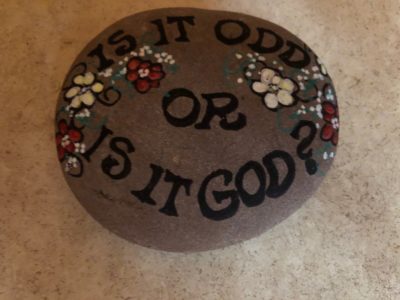 I so related to that quote, for I'd ultimately realized in my life that challenges weren't actually by happenstance but by design and that some traditions to which I had previously deeply held simply needed to be released. So I bought the quaint rock to use as a doorstop and reminder that when God moves in mysterious ways, He can be trusted! After all, traditions are simply about enjoying today while celebrating the past.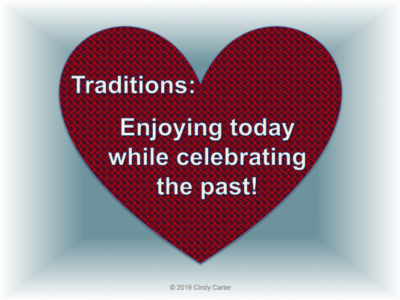 What traditions do you have in your family? Where do they lead? To grace and inclusion of those in need? How many people do you know whose lives have drastically changed since the last holiday season, how many have lost their family traditions and will never be the same again due to life circumstances? Are you seeking ways to include those who could be discouraged and downtrodden within your realm of influence this year? I hope as you look at you and yours, you will evaluate if maybe, just maybe, it might be time to simply start some new traditions, those that spread more joy to those hurting in this world! Have a blessed Thanksgiving!