How many times have we been told that "balance" is the best way to live, work and yes, even play? How many of us succeed?  I can tell you that I am an habitual goal setter for getting balanced and I seem to always fail. Some years ago, I had to accept the fact that if not careful I can be a "people pleaser". I'm someone that will do for others with no limits even when I know it may not be best for me. Symptoms can include: taking on projects no one else wants to do, stepping in when I hear someone dropped the ball, and let me be honest, not wanting to feel guilty. Let's be clear, no one is trying to guilt me. It's all on me! Ok, so I have admitted to having a problem with saying no. Maybe, there is a special program for me. If so, sign me up!
Since 2013, I have mentored and served a nonprofit in my community, for much of that time I also volunteered for the prayer line in my church, meaning when anyone needed prayers for an illness, a passing or any reason, I received a text or call and then in-turn would send the request to the entire church. It was open 24-7. Since in those days, I was also traveling to Latin America often, many times those texts or emails came through while I was in a sugar cane field or in remote areas- but Tricia to the rescue. Most often I would anxiously wait to see when the cell picked up a signal and hurry to send. I later realized this was not even coming close to balancing my life. I did that volunteer roll for seven years, and the community nonprofit now for 9 and still going. Please do not misunderstand, it was a blessing for me to serve and I was happy to do so but at times the stress may have created an unhealthy reaction for my well-being. 
So, you may ask, what have I done to try again to find balance? Easy solution, I ran away.
Just 48 hours ago, I stepped off of an international flight that had me in transit for 23 hours and 35 minutes. My oldest son planned and took me to the magical land of Scotland, also to Ireland and Holland. Twelve amazing days to "let go". I didn't even take a laptop. We both needed a refreshing, soul filling break and it did its job.  We both agreed that we didn't want to have the stress of expectations, just the relaxed openness to enjoy. With that thought, we would have no disappointments. Yes, it rained in the Highlands of Scotland and it was cold, windy and wonderful. Taking a train to a small Irish town called Kilkenny with little to no knowledge of what we would experience and being delighted by a friendly shop keeper and beautiful views was a breath of fresh air. The first view of the majestic Cliffs of Moher seemed to take the last remnants of stress away. Oh yes, 6 flights, 5 trains and 2 buses and lots of walking reminded me how tiring travel can be, but the stress of "too much" was gone, the travel was simply a needed action to reach the next destination.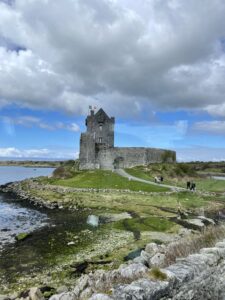 I am home now, relaxed and peaceful. Of course, I understand the trip will not be a common occurrence but I see now how finding inspiration, rest, and letting go can truly transform my days and I must find daily ways to do so. Turn off my phone, don't check emails so often, set time just to be alone with myself and find things to provide the richness we need. Watch more sunsets, fill the bird feeder and just watch nature out of my window. Most of all, remember it is ok to say "no" or "not now" and still be engaged and giving but remember to give to myself as well. Who knows, maybe this time I will be successful in long term balance, only time will tell but giving it 100%.