Morocco! The names alone are so enticingly exotic: Casablanca, Marrakesh, Fez, and Tangier. Each one conjures up film, music, food, architecture and the stuff Orientalist's dreams are made of. Want pristine Mediterranean beaches, or perhaps a camel trek through the Sahara? Watch local women (and goats) produce the lovely Argan oil found in the cosmetics on your shelf (go check). Terrain varies from mountain ranges, valleys, to mud brick buildings that mimic the local soil of varying hues.  Even manicured towns that you swear came right out of Heidi and the Alps. Morocco truly has it all.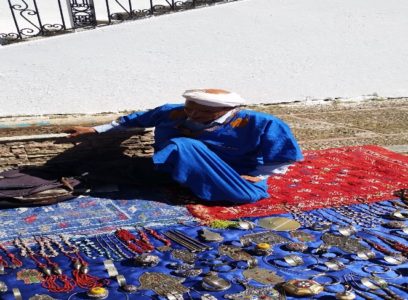 We only skimmed the surface on a recent ten day visit. It was sensory overload all the way. If you want to do the country justice, you need at least a month. Or better yet, search the old medinas in Fez and Morocco to find a beautiful courtyard home and turn it into a Riad – a Moroccan bed and breakfast! Our Parisian host in Fez did just that. Once the home of wealthy banker, Riad Kitani, it is a perfect model of a refurbished Moroccan home. Head there in the off-season from October to May, stay and buy for peanuts with the great dollar to dirham exchange rate!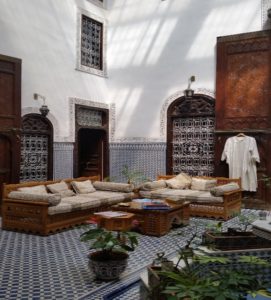 Food, glorious food! Those Moroccans know how to spice their way into your heart. Masters of the couscouseri and savory tagines. You get your daily veggies and then some. You haven't lived until you've tasted Moroccan olives and of course the incredible mint tea served everywhere, especially when welcoming guests. For those with more European tastes, the Moroccans mix it up at breakfast with le petit dejeuner of lovely breads made of semolina, crepes and croissants served with marmalade from the abundant orange groves, and local spiced olives, accompanied by mellow café crema.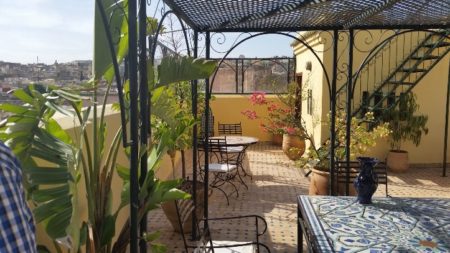 Now is your time to try out your high school French! Unlike French nationals, Moroccans love to speak with you en francais, particularly in the north. I was able to be mis-understood in three languages – English, Arabic AND French. English is common everywhere but for Arabic speakers, it takes a while to decipher the dialect.
In addition to the scenery and food, the architecture of the Islamic cities blew me away. Exquisite craftsmanship is visible everywhere, particularly in Fez and Marrakesh. The tiles, the calligraphy of Quranic verses and names of Allah, coupled with intricately carved cedar wood and filigreed lamps (you must not miss the lamps) were so incredibly inspiring to the artistic eye. Visit the world's first and continuously operational university opened by Fatima al Fihri, a Muslim woman and refugee. Also, do take a day trip to the coast to view and support the local cottage industry run by women that produce Morocco's top claim-to-fame export, Argan oil.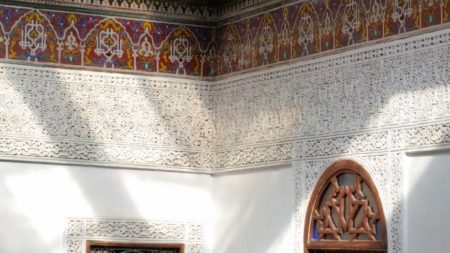 As a Muslim and historian, it was an amazing step back in time to the Golden Age of Islam. Imagine as you tour the various sites and museums, gardens and fountains, that all this existed while Europe still languished in the Dark Ages. Guides and descriptive plaques contribute to expand the visitor's knowledge of a great civilization that produced physicians, scientists, inventors, artisans, and philosophers and helped usher in the Renaissance. Fortunately much has been preserved and Moroccans are working tirelessly to refurbish and bring all the former beauty and tranquility back to life.  Stumbling on an exquisite ablutions fountain in a crowded alley in the Medina, never fails to delight and amaze.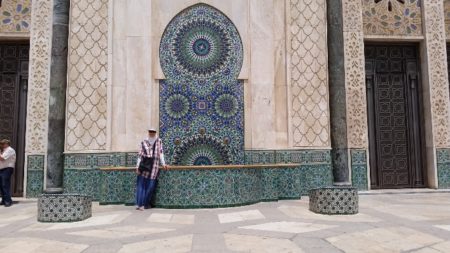 Take care! In the tiny and twisting streets of Marrakesh, motorbikes, mopeds, bicycles, tuk tuks and the occasional donkey cart all compete with pedestrians. Takes a bit of getting used to but the local motorists and pedestrians are magnificently adept at dodging all. You might be startled the first time you hear the Muslim call to prayer that rings out from every minaret 5 times daily, but it soon becomes soothing and even eagerly anticipated.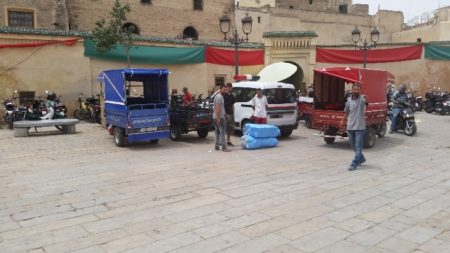 My words cannot do Morocco justice. Just go and let your senses fly!