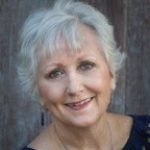 For over 30 years, Deb Kreimborg was a professional photographer specializing in portraiture. After taking a photogravure workshop in New Orleans in 2010, Deb was so enchanted by the warm tone etchings that she forged a new path- Photogravure Artist. In the last few years, Deb has had several solo art exhibits featuring her Love Letters series of Photogravure Art. By researching love letters through history, gathering inspiration, and using her photography to tell the story, Deb hand prints each image so the viewer can take a peek at a love letter from a sacred heart. Deb is committed to move forward as she continues to work on her Love Letters book and her next portfolio – Letters to God. She is inspired by where people get their true strength from while going through a life struggle.
To find out more, visit debkreimborgimages.net
You can find her articles here.