"Men can't step back and leave it to women alone to clean up the mess we've made and are still making,"
-Bono, Time, January 15, 2018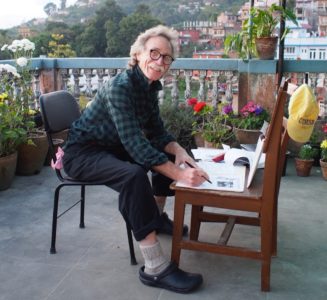 Men hear from us when they let us down, and rightly so. Let's also be sure they hear from us when they get it right. Ricky Bernstein, whose story I tell here, is emblematic of a small brigade of such men. I write this in February, and in thanking Ricky, I send a valentine to all the men in our world who stand up for women.
Bono is right — for men, righting wrongs against women is a moral imperative. But it takes courage, and I have little patience with the argument that men should not be thanked for simply doing the right thing. We're all human. Men, like any of us, can honor their moral obligations to a greater or lesser extent, depending on the amount of ridicule they're willing to risk, the consternation they're willing to cause, or the effort they're willing to invest. Anyone who's been thanked or recognized knows that a thank you is powerful. When we say thank you, we energize men who've chosen the more difficult path, and we reinforce their desire to continue. The man who desires to do right will accomplish more than the man who thinks he ought to do right.
Ricky Bernstein has worked as an artist for 44 years, with a home and studio in the Berkshire Mountains of Massachusetts for the last 23 years.  He makes wall-sized glass murals – riotous retro-comedies that celebrate the chaos of daily life. Curlers, mops, and toasters caper through his imaginary world. No one would guess that the jocular pop artist also runs a large girls' education program halfway around the world — in the squalid slums of Kathmandu, Nepal.
The program, called Hands in Outreach, was founded in 1985 by Louise Todd Cope, a craft weaver and friend of Bernstein. Cope traveled to Kathmandu in 1985 for the World Craft Council. Deeply moved by the poverty she saw, she set up an educational sponsorship program, matching needy children with sponsors in the US. Ricky and his wife Elisabeth volunteered to sponsor a child, and in 1987, they traveled to Nepal to visit her. "I couldn't turn away," Ricky recalls. "I felt as though I could do something there."  That was the pivotal moment, and ever since, Ricky has dedicated his life to improving and expanding Hands in Outreach. He has directed it since 1989.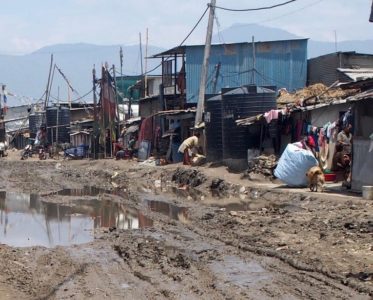 "I felt like a Robin Hood," says the cartoonist. "I knew a lot of wealthy collectors who wouldn't be naturally directed to give money to poor children in Nepal." With pathos and humor, Ricky conjured funds from his contacts in the art world, greatly expanding the scholarship program.
In 1995 Ricky made another critical decision – Hands in Outreach would educate only girls. "Girls have so much less opportunity for education," he notes. "They're always passed over in favor of their brothers. By age three to five a girl understands that she is second class. She eats after her brother. She serves her brother. Girls begin to loathe themselves. You have to shatter that kharma — the kharma that a patriarchal society is forcing on them." In addition to educating girls, HIO celebrates their talents and reinforces their ability to break free. Building self-esteem, he says, is an ongoing endeavor. Partnering with teachers and mothers, HIO encourages girls to stay in school to gain the skills and confidence to become strong, self-reliant women. Later, as mothers, they'll understand the importance of education for their own children.
Because HIO has been in existence so long, Ricky has watched girls start pre-school and progress all the way through college. HIO claims many success stories:  girls who've gone to medical school, dental school, law school, and business school — or have become teachers, accountants, and nurses. Several returned to HIO as teachers, helping younger girls like themselves pull out of poverty. Others donate funds, and one student will soon return as HIO's lawyer.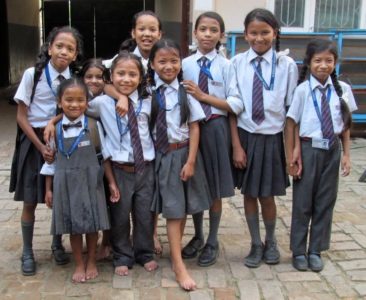 Of course, there have been some heartbreaks, too. Occasionally, a girl stops coming to school — generally because the family needs her to work. One family was so poor that they pulled all three daughters out of school. That, Ricky says, discourages and frustrates him more than anything else. Once these girls drop out of school, they're destined for a dead-end life of low-wage, menial jobs and early marriage.
Hands in Outreach now educates 150 girls from pre-school through college with a 98% retention rate. It also operates two pre-schools, a mothers' literacy program, and a health care fund. The in-country directors, Ram Adhikari and Palmo Tamang, criss-cross the city, regularly visiting all 150 families and doing their best to address circumstances that prevent girls  from attending school – health crises in the family, job loss, and alcoholism, to name a few.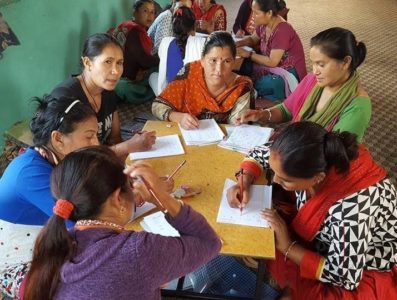 How did I encounter Ricky Bernstein? I met Ricky through my work with the Gendercide Awareness Project (Gendap). In addition to educating about gendercide, Gendap takes action by educating at-risk girls in developing countries. Hands in Outreach is one of six, carefully vetted schools and/or scholarship programs that we selected for support. In 2017, Gendap provided operating funds for a preschool located right in the middle of the slum shown above. (The Strong Roots Preschool is the small turquoise building in the back left.) This year we are supporting the Mothers' Literacy Program. While mothers learn to read and write, sponsored girls come in for after-school tutoring; once home, girls help mothers with their homework.
Mother and daughter … each life is touched and improved. Men like Ricky Bernstein, with heart and vision, constancy and courage, make these social corrections possible. Though members of the dominant group, they embrace the viewpoint of the other. They are our social glue. These unsung heroes make it their daily business to stand with women. They soften the battle lines, rally our spirits, and take withering criticism. They have my heartfelt gratitude.