My home is my palace; however, my palace doesn't always resemble an ultra-tidy home. Like many working women with a spousal unit and a family, it's sometimes difficult to manage all things household and, well, you know – something has to give. In my case, unfortunately, it is often my housework.
It hasn't always been this way though. As a young wife, then later the mommy of two small children, it was important to me to always represent my inner June Clever. You know, impress everyone with my Wonder Woman ability to do everything! The problem with that, was that I never really had an inner June Clever and I've only recently learned how to channel my Wonder Woman powers without the super cute leotard, boots and gold bracelets. Looking back on that season of my life, where I placed great importance on things that just didn't matter that much, I can now openly share my naivety, in hopes to touch the minds of other young women with similar hang ups.
See, I was that woman who became annoyed with open cabinets and pantry doors. If you open it, common sense says you should shut it! But in my household, that crosses no one's mind but – you guessed it… mine! I also followed my family members around picking up things they left behind, that I later labeled Hubby Trails, Daughter Trails and Son Trails. Those clever titles did nothing but create an opportunity for me to waste breath as I picked up whatever trail I was on at the time! I have to tell you that it stressed me out completely! And due to all of that, the angrier I became, and the more entertaining I was for my people. They always have found humor at my expense. So, I stopped…because it didn't matter.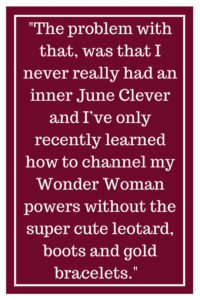 Today, after almost 20 years of marriage and a couple of teenagers, I can honestly tell you that where a nice tidy home is one of my favorite things on the planet; every opportunity I have to sit with my hubby or speak in unknown acronyms with my kids, means so much more. So, I decided a few years back to lower my stress levels and take each day as the special gift that it is. Now this doesn't mean that I get out of my housework all together, it simply means that I am ok to stop what I'm doing to give my undivided attention and laugh with my family. Then guess what? My housework waits for me; without a hint of a scowl, it just waits.
Life is too short not to live it, and too precious not to share it with those who mean the most to you. But more than that, where there are things that will always have to be done, there may not always be a next time to spend with ones we love. Promise me this; that you will make yourself aware of the moments to make memories at the expense of leaving a dish in the sink, laundry not folded, or the front porch left un-swept. Your housework won't be upset, in fact it won't even miss you – so it's okay sometimes to let it wait. Believe me, it ain't going anywhere!
---
Other articles you may be interested in: