What does it mean to be someone's neighbor? Is it living next door to them? Down the street from them? Is a neighbor someone you are similar to who lives in your community? Now, to take it to the next level, what do you think about when I say, 'Love Your Neighbor as Yourself'? This likely conjures something completely different for you. Maybe caring for those in need? Broadening the definition of neighbor altogether? When we are shaping the way we interact with our environment we often rely on our own definitions or imagery of what a neighbor represents. As Warren Wiersbe has said, 'it is not difficult to discuss neighborliness in the abstract, but it costs something to be a real neighbor.'
We spend a lot of time searching for a place to live that creates a sense of community and belonging inside us. The factors on which we base our decision rely on the community, schools, grocery stores, and proximity to work and play. My question/challenge to you is: are we leaving out one important factor in our search for somewhere to live-neighbors who need us. How can we help them belong and how can they help us redefine our sense of community?
So what about here, in Tarrant County, our home community? Here we are looking at ways to think and act differently about our neighbors surviving on the fringes of our community. We are actively fighting complacency, getting comfortable with the uncomfortable and discussing what is happening to our neighbors living in poverty and enduring homelessness. We have spent years studying and discussing the issue of homelessness, trying to come together to help those impacted. "We have proven best practices now, and are in a better place to create true strategies around ending homelessness. It is an issue that impacts all segments of our society, and our community is coming together with a sense of urgency and compassion to deliver a collaborative response and improve the lives of our neighbors in need, enriching our own experience of community," said Tammy McGhee of Tarrant County Homeless Coalition.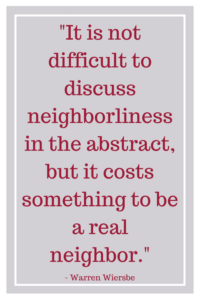 Our efforts are always well intended and heartfelt, but we could not find synergy. Now we have a renewed and shared sense of urgency to help our neighbors, and to be good neighbors ourselves. People are opening their hearts and minds to very difficult discussions.  As homelessness rises across our country, Tarrant County community leaders and citizens are stepping up to help.  Our community is expanding its understanding of collaboration and sense of urgency through coalition building and out of the box thinking.
Why does this feel different or what feels different about the current climate of advocates working to help those surviving homelessness? Better research? Better planning? Emboldened citizens? Great nonprofits? I think it is all of the above and more. Timing is everything and initiatives are coming together to allow our community to answer the call to action in supporting our neighbors surviving homelessness. The service providers have always worked hard to alleviate the suffering and meet the needs of the most vulnerable in our community.  Now more than ever we find ourselves with the much-needed momentum we have been working towards for decades.
We must continue to challenge ourselves to think beyond our personal needs and be a good neighbor to those in our community. Everyone deserves to feel safe and have a sense of belonging and that only happens if we do this together. Now, more than ever, we need engaged and active citizens. We must volunteer and be present in the lives of those who need us. We must as a community continue the conversation and the work so many have been diligently stewarding in our community about homelessness and poverty. Now is the time to turn forward towards the needs of others and step into the momentum happening around us. As we continue to improve our community's livability with record growth we must continue to recognize the marginalized in our society and make good decisions that help the greater good, not the selected few.
Local DFW resources to check out!
Photo by Monica Melton on Unsplash
---
Other articles you may be interested in: