As I frolic "over the hill" with a lot of kick in my step, I wonder about other people and their stories. About how some are achievers and others are somewhat non-achievers. Is it inherent or learned?
There are those that bust the door down and others that, when they hit a wall, they cannot find the door.  There are those that cower in a corner afraid while, others step up to the plate and swing. The trend now is to hide in front of a computer screen as the other person longs for conversation to resolve issues or set goals.  And yes, there is the person that needs that safe harbor but for me, my spirit wants to fly.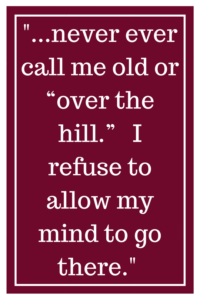 In another life, a friend told me she graduated from college, bound and determined to prove to her parents she could succeed, she had worth. That drive has led her down many roads achieving inner peace and her own brand of success.   When she set her mind to anything, she found a way to make it happen.  In time, she also looked at failure as a time to learn; persistent in her desire to achieve a goal.
Not long ago, I was overjoyed to hear from my best friend from high school.  I was so excited to get caught up and find out more about our other classmates as we emailed back and forth.  She had married twice and was living off of welfare which broke my heart.  Her dream was to become a nurse, to help others but got sidelined with children and marriages and now, bad health.
I wondered where all the hopes and dreams had gone when we, as young faced individuals, walked the halls in search of who we were to become.  Poof… for many they were shelved never to be achieved.  At the core was this feeling of just settling for "over the hill."  No matter how slow the progress may be, I believe it is so important to keep trying.
One night in a jazz bar with Billie Holiday playing in the back ground, my husband and I recalled the life story of a man we had just met.  At eighteen years of age he was sent to Vietnam as a helicopter pilot.  After several tours, he came back to the states looking like Freddy Krueger.   After many surgeries, he went to college, got his degree in business, but decided to take a different route and became an Air Traffic Controller.  He got fired during the PATCO strike in the early 1980's and decided to become a mercenary traveling all over the world into war torn countries.  Married twice, he fathered four daughters that spoke and read three or four languages. His next phase of retired life is restoring a fleet of old cars.  Amazed, I venture to say he has lived 10 lives, faced many fears and turned obstacles into opportunities.
Imagine inviting your "over the hill" girlfriends to visit for a week.  My friend was overwhelmed with their unwillingness to get out and be part of the many planned excursions. They simply wanted to sit and watch TV and be waited on.  Needless to say, she could not wait for them to depart so she could go to water aerobics, enjoy her art classes, and plan more trips.  She wonders when the road took a wrong turn for them.  She still wants to live life, to achieve, and follow the passions that drives her spirit.
I once told my grandsons to never ever call me old or "over the hill."   I refuse to allow my mind to go there. Tomorrow will definitely bring its challenges and along with it another achievement, another way of looking at life and becoming a better version of you.  So… Dream big, Cheer others on, Soak up each light of day, and Fill your cup up with LIFE!
Photo by alexander milo on Unsplash
---
Other articles you may be interested in: