Have you ever reflected on how the seemingly random pieces of your life ultimately come together to form something beautiful? Is it possible that beauty can truly come from ashes?
Our family has personally experienced that, and today, I recognize that one particular skill was actually one learned and then honed them in the midst of several relatives' struggles. First, a dear sister-in-law was in a terrible motor vehicle collision, resulting in a broken neck. Over the next several days as we sat in the waiting room, praying for her and a healthy outcome, I watched as my mother-in-law grieved over her daughter. As I thought about this mother's love, I wanted to make her something that might ease her mind, some type of memorial. I also realized that my father-in-law was grieving as well, that it was together that their love had brought forth and cared for their precious family. So I decided to make a family memory quilt and with weeks of hospitalization ahead, I would have plenty of time to do handwork in the waiting room.
Though I had never quilted, my husband had recently surprised me with a new sewing machine. And because of another family member's struggles, I was gifted all of the material, threads, and sewing notions when my husband's dear grandmother had entered a nursing home after a stroke. So, I had a wide variety of materials, batting, and backing at my disposal.
Nor had I ever embroidered, but when I visualized the family memory quilt, I just knew that's how all of the information should be presented. Plus, I had taken a beginner's sewing class in my teens one summer, so I figured I could learn. As I went home and picked out all the materials I would need, I decided that my in-laws' love for their family reminded me of a sunrise that comes up over the green horizon and stretches to the blue sky, so that became my design.
When I began embroidering the names, I used a small sideways whip-stitch to make each cursive alphabet letter of my in-laws' names. Then I added their individual birth dates and wedding date. Next, I made one for my husband and myself and our children, plus other siblings and theirs, as rays of the sun coming from that love.  Later, when I found a tiny applique angel, God even gave me the idea to make a cloud in the blue heavens, in honor of the baby girl that this family had lost decades before at birth.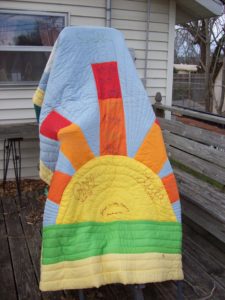 As difficult as the hospitalization and recovery progress was, my sister-in-law would later state that during that time God brought her closer to Himself, as she experienced and clung to His promise from Romans of how only He could "work all things together for good".
My Mother's Quilt
A few years later, my mother would call me to her bedside with a request. You see, her eyesight had been failing for quit a while and soon, she would be declared legally blind. But she had always wanted to quilt! So she had bought a pieced quilt top from an elderly neighbor in the Ozarks a few years before, but now she realized that with her health deteriorating so rapidly, that would never happen. Plus, she was concerned about going in for a heart catheterization the next day, and in 1986, she recognized this as a risky operational procedure without a promised outcome. So, she showed me this pieced top, spoke of how much she treasured it and the friendship with the woman who had crafted it, and then asked me to be her eyes and quilt it for her.
Of course, I agreed. I worked on it off and on within a large stand embroidery hoop for the next year, often with my mother sitting beside me as we shared stories and watched musicals together from the library. Although her eyesight was getting so dim she couldn't really see the video, she sure could sing along, and since she loved musicals, she knew every word. The last year of her life, she moved to live near another sister who had the youngest grandchild, for she felt she could be of help to her. It really was amazing to watch my mother experience peace in the midst of the dimming light, for she simply enjoyed what she could, such as the company of her family, and I never heard her once complain about becoming legally blind. So, she still served others, even when she was suffering such a loss. When she died the following year, I couldn't bring myself to quilt on it anymore, so I stored it away where it has stayed for the last 31 years.
The Baby Quilt
Several years later, I decided it was time to teach our daughters to quilt, so we started making a baby quilt for a friend, this time within the same large stand embroidery hoop. Again, since I didn't really know much about quilting and was simply self-taught, I told the girls that we would each start on our side and work our way inward. Of course, by the time we got to the middle, there was so much extra material that we had inadvertently had pushed there. At first, I thought it was ruined, as did the girls, but then I remembered admiring some smocking a friend at church was doing, and I got the idea to fold the extra into little tiny pleats and stitch them down as if I was smocking. By the time we delivered it to the new mother's home, I was feeling quite proud of myself, for the smocking gave it an extra depth and beauty. But soon one of our daughters started describing how horrible it had looked just a few days ago and the mistake we had made of not knowing to start in the middle of the quilt and work your way out! I was mortified, for I wasn't planning on airing our dirty laundry, per say, but I finally realized that kids being honest is always a good thing, so I swallowed my pride and forgave myself for not knowing better☺
Quilting, and sewing in general, became a time of relaxation, reflection, and prayer for me, often praying over the material I had on hand and asking God what to create from each piece. At other times, I was simply praying about how to fix what wasn't coming out so great! I still never had a sewing class, other than the man who showed me how to use my machine and a hand-stitching class from my youth. But I would use those materials and notions the family donated to me over the next couple of decades to create all kinds of projects, from Christmas tree skirts to tablecloths, placemats, curtains, crafts, and all kinds of clothing. In fact, that donation ultimately saved our little family hundreds if not thousands of dollars on household accessories, as well as gifts for others.
Quilts for Grandbabies
About 15 years later, when making a baby quilt for our first granddaughter, as my husband's grandmother had made for our son, her first great-grandchild, I was thankful for all of the lessons I had learned about sewing and through actually sewing and quilting. By the next decade, I would be teaching our oldest granddaughters to quilt, and they would be making a quilt for the newest baby in the family, Baby Trinity.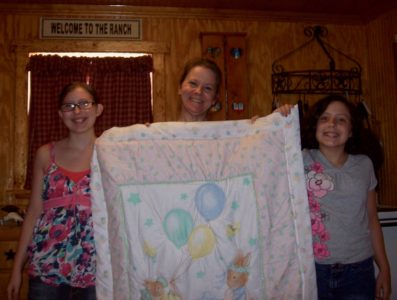 As our first two grandchildren have graduated from high school over the last year, I have had the privilege to create a Scripture patchwork quilt for each of them, something for them to take with them into their new lives.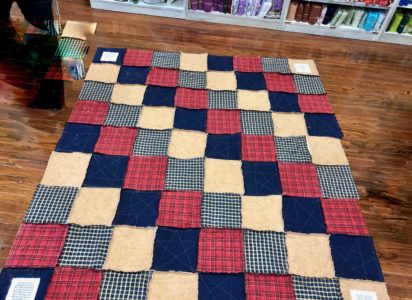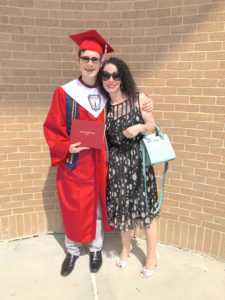 Quilts, to me, represent the patchwork pieces of our lives, struggles that maybe didn't make sense at the time, but eventually fit together beautifully as a part of the bigger picture, the development of character through the process. I personally love walking through quilt shows, where I am blessed to witness the determination to start and dedication to complete such beautiful works of art. Plus, it warms my heart that the effort and struggle represented by a quilt results in a met need, fulfills a practical purpose in providing warmth and comfort. As Proverbs says, "She is unafraid of winter's effect on her household, because all of them are warmly clothed. She creates her own bedding, using fine linen and violet cloth".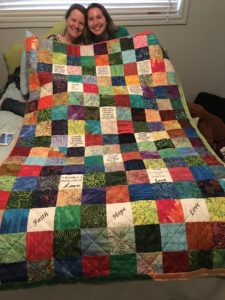 Recently, I met a woman with an amazing perspective on trusting that the tattered pieces of your life can ultimately become a beautiful story. As I observed her life, I was so blessed and challenged, and next month in part two of this series, I will be sharing her story. As all of the women I've described within this article so enriched my life with their contributions of faith, hope, and love, I know you will also be blessed by seeing her faith. These women, directly and indirectly, lead me to quilting and sewing, ultimately showing me that beauty can result from ashes of suffering. And after much reflection, I've decided it is time for me to pull out my mother's pieced top that she asked me to quilt and finish it!