Imagine the look on my parents' faces when I told them I wanted to major in art history. Now imagine how much more concerned they became when I went to graduate school for architectural history.
They were certain I would never, ever be employed. I mean, how would I ever use those degrees in the real world?
I held fast to my dream of becoming a professor. I had wanted to be a teacher since my days as a girl, turning my bedroom into a classroom and my stuffed animals into my students. I loved the idea of helping people improve themselves.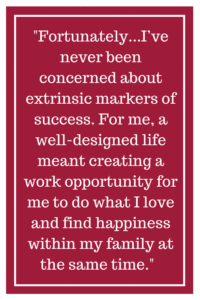 I was hired at a small college in Boston, teaching art & architectural history to underclassmen. It was my dream job. I loved teaching freshmen, helping them navigate the new world of college and living away from home. I also enjoyed teaching seniors, on the brink of another life transition. The job was everything I'd dreamed it would be.
I knew that once I became a mother I did not want to pursue the intense academic track. While an established academic may have flexibility, the confluence of the time in my personal life and my fledgling career would have meant dedicated, focused hours of work right at the time my husband and I were looking to have children. I jumped off the tenure track, unsure of what would lie ahead.
As a lifelong runner and fitness enthusiast, I spent much of my young adult life coaching my friends, so they could complete 5Ks or marathons.  When I became pregnant, I researched and read everything I could about prenatal fitness.  Despite the fact that my first career was as an art history professor, it seemed a natural transition for me to become a certified personal trainer who works with perinatal women.
When I launched my business in 2008, I had two kids under 5, so I felt that I could identify with the struggles of moms taking care of themselves during a period when children are demanding. Every mom I met was trying to find their own balance of herself versus the needs of others. Inspired by this life-stage (and my love of puns), I named my company Balance.
At first thought, the change from art history professor to personal trainer seems to be a serious drop in professional cache. Fortunately for me, I've never been concerned about extrinsic markers of success. For me, a well-designed life meant creating a work opportunity for me to do what I love and find happiness within my family at the same time.
What I've learned over the past decade is that there is actually quite a lot of overlap between my two careers. My experience as a strong researcher lends a great deal of credibility to my work. My inherent nerdiness means that my clients are working with a coach who is always up-to-date on the latest research regarding health and wellness. Over the years I have added certifications to teach yoga and work as a health coach.
My critical thinking skills remain in high demand in my current work. The human body is a complex machine and charting each person's path to better health is like solving a multifaceted puzzle. Keeping abreast of current research and being mindful of each client's goals lays a foundation. I must also understand how the many priorities of life affect someone's likelihood to execute the program I design. Working with people in a transitional phase of life continues to excite me.
While the content of my work as a personal trainer and health coach differs significantly from my first career, the work is all essentially teaching. I am using the same communication skills that were necessary in the classroom when I interact with my clients. Knowing how to motivate people, especially when they're facing a challenge, is an essential part of the job. And as with any good teacher, I want the best for my clients.
I absolutely loved my first career. It was perfect for that phase of my life. I also love my coaching work because it allows me to have the time with my family that I want, plus it supports other moms who work to be healthier and set a good example for her kids. Balance is about weighing different priorities and making adjustments, so we can each live our best life. In my unplanned life plan, I've been able to do just that.
---
Other articles you may be interested in: