In February, I wrote about the legacy of a man who had left his imprint on human history. In this article, I would like to introduce you to some other trend-setters, those who are changing history in their little corner of Texas.
Anna Mae was born on June 23, 1918. That's right, this is her 100th year! Of course, you've probably heard about centurions in the past, but turning 100 after putting in 70+ years of volunteer service, that is simply amazing! Anna Mae started volunteering in her twenties and has found a way to volunteer since. She has volunteered at Texas Presbyterian Hospital of Denton (THDN) every Thursday for 18 years, but before that, she also had a long tenure of 40+ years with two other organizations, American Red Cross and Summit Medical Center consecutively.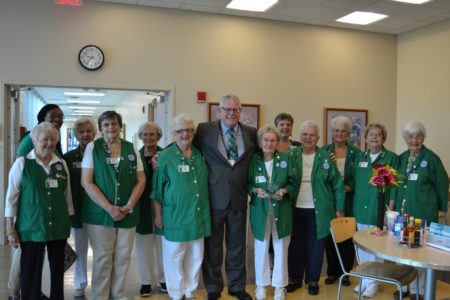 Here's a brief list of her weekly set activities in her 100th year:
Sundays: Sunday School class
Mondays: Bible class
Wednesdays: Bible study at her church
Thursdays: Volunteers at THDN
On her days off, she also keeps busy with other activities and is an active member of several organizations and activities:
Book Club
Prayers Shawl Knitting Ministry
Emmaus Sisters in Spirit Group
Volunteer for Interfaith Ministries Apple Tree Project
She has also crocheted 25 baby beanie hats per month for the sick babies at THDN (for last 15 years)
For most of us, we would have trouble keeping up with Anna Mae's schedule. But surprisingly, when you meet Anna Mae, you would never guess her age for she seems far too spry to be in her 100th year! She is sharp, engaged, and inspirational, having won many volunteer awards, including the Helping Hands Award in 2015 and the D/FW Council Award in 2016.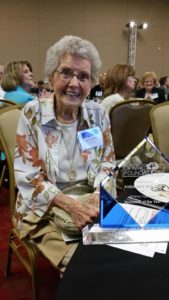 Anna Mae is also a role model, always willing to go the extra mile. One of the Junior Volunteers, after having spent a day being mentored by Anna Mea, came back and reported, "She is such a lovely lady, and I hope to be just like her one day".
Most of us have probably never even considered what we will be doing in our late 90's, much less dreamed about winning awards at that age. But, when you see Anna Mae's enthusiasm to serve, her life begs the questions, "What is her secret? Is there something within the activities that she is doing that is refreshing and revitalizing her?" If you asked others she has mentored, they would say that Anna Mae has a contagious desire to serve. If you asked Anna Mae, she would tell you it is her faith in God that sustains her and gives her the strength to serve others.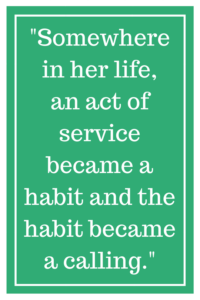 Her life reminds me of a biblical principle: "Give, and it will be given to you. A good measure, pressed down, shaken together and running over, will be poured into your lap. For with the measure you use, it will be measured to you" (Luke 6:38, New International Version). In her case, what she receives from giving to others is definitely running over and spilling on those she serves. Where did the volunteer spirit and mentoring begin? Somewhere in her life, an act of service became a habit and the habit became a calling.
I personally started out as a volunteer for the American Red Cross before I came into Nursing, and I know those small beginnings gave me a hunger to serve more. The same is true for many others. One amazing volunteer manager, Pam Milan, started as a Candy Striper in her teens. Then 20+ years ago while serving as a marketing coordinator, she had the opportunity to begin to interact with volunteers in the same department. A few years later, Pam was asked to take over the team of volunteers and immediately was impressed with the servanthood of the senior citizens in the group. Though she was supposed to be their leader, they were such role models to her that a mutual respect flourished. Within a few years, Pam had tripled the number of volunteers as she mentored and nurtured each one who came under her leadership and they reciprocated. In April 2016, though Pam was planning to accompany Anna Mae to an awards ceremony, she had a stroke and was hospitalized. Anna Mae, wanting to thank her precious manager, went to Pam's hospital room after the ceremony to share the award and the moment. A few months later, determined to return to her volunteers, Pam returned to work, after taking only the amount of time needed to recover from her stroke, but not a moment longer. Pam's dedication reflected her practice of putting others' needs first.
When our children were young and performing a weekly puppet show at a nursing home, they learned that important life lesson, that "it is more blessed to give than to receive" (Acts 20:35, New International Version). And like Anna Mae and Pam, those lessons of volunteering became a habit and eventually a calling within each of their lives as well. Fifteen months ago, our son Craig started his own food bank, Hope2911. My husband joined in and took on the role of driving hundreds of miles per week to acquire the food, as well as sharing his years of expertise and know-how into the reconstruction of the old historic building where the food bank now resides. As the ministry has continued to grow, we have seen it blossom into both a place to serve (for the volunteers) and to be served (for those in need). In fact, we are in the process of creating a youth center as the next aspect of the ministry, for you see, the reason the Golden Rule is golden is because when we serve others as we would be served in times of need, it blesses everyone.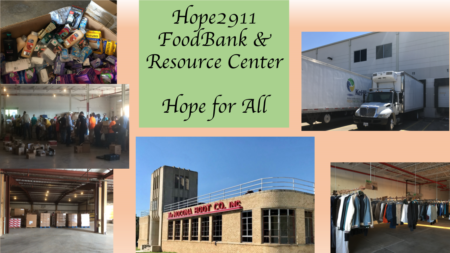 Do you have an Anna Mae or Pam in your life? Have there been times in your life when you were served? Can you point to someone that taught you the joy of servanthood or mentored you? Are you passing that desire to serve and mentor to the next generation? That is one of the beauties of this wonderful online environment here at Plaid for Women, as we mentor and support you, we hope you will be inspired and encouraged to go out and do the same for someone else. As Anna Mae and Pam and our family have discovered, there is something empowering about giving and volunteering can definitely be contagious! In fact, it is almost as if in giving, we are ultimately nourishing ourselves. Maybe that's part of the secret that has sustained Anna Mae all of these years, she is actually healthier because she has chosen to put others first! Lesson learned!
---
Other articles you may be interested in: