How are you adapting in this rapidly changing environment? In the midst of this time of upheaval, I have  found myself reflecting on lessons I learned from my father.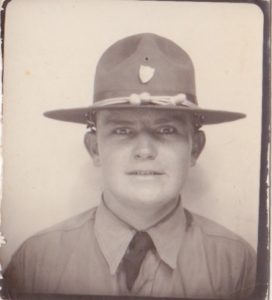 Our father joined the United States Army Air Corp when he was only 17 years old, the same year (1934) that his father died. He was the youngest in his family, and I'm sure it was quite a challenge for his mother, having already lost five children to illness,  but he enlisted anyway. He was still in the Army Air Corp when he married our mother in 1942 and stayed in for a few more years.
As the Army Air Corp began to transition over to the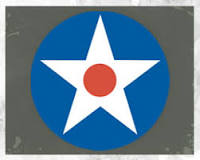 United States Air Force, he decided to take his wife and child to Arkansas to till the soil in his home community, just down the road from his mother's place. But farming wasn't very profitable, so in 1950, he rejoined his military career and began working in aviation. He was stationed at Shepherd Air Force Base in Wichita Falls, Texas at first. But when the Korean War began in 1950, my father was being transferred to Saudi Arabia. He settled my mother and their four children into a house close to her family.
Though media has made the Korean War into a glamorous escapade through the television series Mash, it wasn't. It was a cruel bloodbath, with 3 million war casualties over just three years. And our father was almost one of those casualties as he experienced the horrors of war first hand. Yet he still believed in the mission of the United States and the military he served, as his grandfather before him. When he was stronger, he returned to active duty, this time stateside. He stayed in the military for another decade before retiring. During that time, my parents would have three more children, including me.
At some point during his years of service, he met a fellow serviceman he greatly admired, an American Indian. I don't know what the two of them faced as they fought together, but it bonded them for life. For years after he retired, our family would go to Oklahoma to visit their family and vice versa. My mother was also very close to his wife, for as with all military wives, they had learned to depend on one another.
The year my father retired from the military, he once again returned to his childhood home (after his mother died), but this time it was to go to barber school.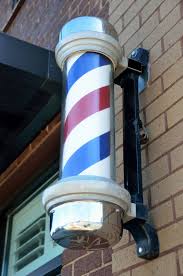 For his first barbershop, we moved to Brinkley, Arkansas.  Little did we know that year I would experience two different crises, one of which would take all summer and a multitude of out of town hospital visits for me to recover. In the midst of both, it was our new neighbors that my parents would come to depend upon. The neighbors had a different color skin than our family did, but their kindness and generosity was what really defined them as our friends.
Our oldest brother went off to college and asked if he could bring a friend home for Christmas vacation. He was from Peru. We'd never even heard of South America, so we gathered around him to hear his stories and learn of his culture and found it quite fascinating. After a few more years in Arkansas, we moved to Texas, and I met for the first time children of Mexican descent and was surrounded with daily opportunities to interact with and learn about their culture and foods, which remain a favorite to this day.
Because of my rich childhood and my father's rich exposure to other cultures, I have enjoyed relationships with a variety of friends. When my brother came home from Central High School in Little Rock talking about desegregation at their school, as a child, I couldn't understand why all people weren't treated the same.
I am so thankful I grew up welcoming the opportunity to get know everyone as a person. God created each of us, different and unique, so we could learn from each other. A song by Sandi Patti years ago describes just that perspective.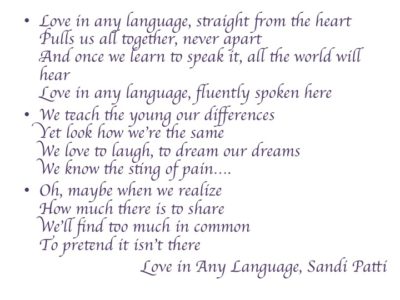 If any good can come from all of the turmoil America has been facing, it will come because of what we are modeling and teaching the next generation. I am thankful for a father that taught us to love one another. As we come to appreciate our commonalities as well as differences, maybe we can finally upgrade from our mindset and focus on the strengths from each culture that allows us to view the world in wonderful living color. As the children's song written during the Civil War reminds us, "Red and yellow, black and white, they are precious in His sight, Jesus loves the little children of the world".