I guess I can't get more authentic than this hijab of mine. Well I could. Now there are online tutorials galore on how to style a scarf according to the latest fashion. And I thought I was getting away from all that nonsense!
Hijab might be perceived as a uniform. Much like Christian nuns, hijabis have a certain dress code: cover the hair, dress in loose clothing, minus the makeup and perfume, and without too much froo-froo that encourages attention from the wandering male eye. That's about it. Nowadays we see evermore variations on that theme. But God did make us women and only Mean Girls judge.  Islam teaches me to say, 'To you, your way; and to me, mine.'
What I have come to appreciate about my hijab – and that term encompasses a whole lot more than just covering one's hair and shape – it's also about attitude and behavior – it does set me apart and identifies me as being religious or at least spiritual. Rather than feeling oppressed, I get quite the opposite sense that I am more in charge of who is invited into my personal space plus I am more quickly appreciated for my intellect, my character, what makes me – me.
I used to fend off a lot of unwelcomed male attention. I, too, sang that MeToo song. Hijab has allowed me much greater personal freedom to walk un-accosted and without the assumption that any man can say to or do as he likes with me. My hijab sends a somehow subconscious signal: "Don't mess with this one."
Even hijabis, though, can fall to the pressure of their peers and communities to be inauthentic. Hijab tutorials, hijabistas and fashion shows are now the norm for us Muslim gals, too. Much of which is fine but I wonder if we are crossing a line.
Unlike nuns, Muslims who cover are not ordered to live out a live of celibacy and restraint apart from society but rather to participate fully in life, her attire notwithstanding. She is encouraged to take part in all facets of life from wife, mother, and homemaker, to astronaut, Olympic gold medalist, and global activist for women's right to education. Now there's an authentic lineup for you!
Being authentic takes quite a lot of courage actually. To thumb one's nose at convention, peer pressure, and society's expectations is not easily done. Coupled with rampant Islamophobia, a Muslim woman who covers faces a double whammy in her non-conformance to the typical western dress code.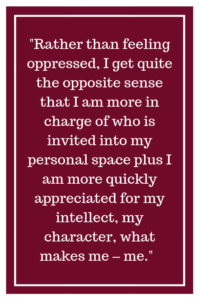 Since none of us here are Mean Girls, perhaps we should consider this: if you spy a covered woman, you might just stop and admire her courage. It's not easy to don the most conspicuous of Muslim attire that can make you a target of someone's hate, wrath, or even just that tossed off nasty word. Those of us who wear it, choose to do so regardless of the consequences – and do so proudly. I know when I step out of my home, my beloved religion is on view for all to see and judge. So, my best line of defense is to hang onto my authentic, smiling, and genuine self.
… and that has made all the difference.
---
Other articles you may be interested in: