Contrary to the songs of the season, not everyone will have a White Christmas (especially not in Texas). For many, it won't be The Most Wonderful Time of the Year. And for some, they won't Be Home for Christmas! Such is the reality of healthcare. Hospitals don't necessarily empty out at Christmastime. In fact, with seasonal flus and other issues, the hospital census is normally increased in December with illnesses and/or injuries. And sadly, a percentage of those inpatients who won't be home for Christmas are children. So, sometimes, the faces of Christmas, are filled with sadness.
About a decade ago, I crossed paths with one of those families while working at the hospital one Saturday in December. I had attempted Subway for lunch, but that adjacent building was closed due to water outage. Next, I tried the cafeteria, but the lines were too long. Finally, I decided to walk over to the children's hospital across the street to eat.
As I was standing in line, the young lady beside me in line remarked I should trade my Christmas snowman sweater for her white sweater. I really didn't know what to say, so I simply thanked her for the compliment and told her it was my favorite also. But I couldn't help but notice how sad her eyes were. As I stood there contemplating what she'd suggested, I grasped that she was serious. When I heard her mention to the staff behind the grill that her three-year old child was in the hospital for yet another cardiac surgery, I realized all she wanted was for them to simply be at home for Christmas.
All of a sudden, I felt very ashamed of myself. Yes, this was one of my favorite Christmas sweaters, but that meant I had other Christmas clothing from which I could choose. I cautiously turned back around and shared that since the season of Jesus' birthday should be celebrated with gifts of love, I would be happy to give her my sweater, if she still wanted it. She shrugged her shoulders, declined my offer, and said she was just kidding, as she slowly walked away with her order.
But a minute or two later, this young woman came back again and asked if I could just come by her son's room, so he could see the snowmen and Christmas trees (on my sweater), and she gave me the room number and floor. When I picked up my order, I hurried to finish eating, then made my way to the elevator, thinking about how difficult it must be for this little family to be in the hospital at Christmastime, much less face yet another major surgery. As I reflected on their predicament, God made it very clear to me that my mission wasn't just to show and tell about the festive décor, but to give my Christmas sweater to them. When I arrived on the floor, I went into the room and introduced myself to the little boy, laying my sweater in his arms. An immediate smile broadened his face as he hugged the sweater to his breast. Then I told him that we should get his mom to put it on, and she smiled as she "donned her gay apparel." Afterwards, I shared that I felt very strongly that God wanted this sweater to be a present for him and his mom so it would bring a little Christmas into their hospital room. Proclaiming "Merry Christmas" as I said goodbye, I realized I had actually traded my snowman sweater for two of the most beautiful smiles I had ever seen, for their faces of sadness had been exchanged for faces of joy!
I also recognized God had only given that sweater to me through a friend a few weeks ago, so now it was simply time to pass it on to someone else. I also marveled that even though my schedule as a nurse had been set for a couple of months, God had a particular mission for me that day and had orchestrated the water main leak and the swamped cafeteria line in our hospital, all to get me to go across the street to meet this mother and child and bring them hope by showing them God's love. It reminded me of a verse where God challenges us to believe in the seeming impossible, "Now to Him Who is able to do exceedingly, abundantly beyond all we dare to dream or even ask" (Ephesians 3:20). And I reflected back to another Christmas, when God had changed my sad face to a happy one.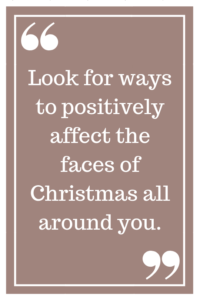 My father was in the Air Force, so we moved a lot when I was a child, and I had gone to multiple elementary schools. When I was in the sixth grade, it was my first year in middle school, and since I hadn't grown up with these peers, that led to some insecurity. When I was asked by the choir teacher to sing the solo for the Christmas carol, "O Holy Night," I was honored but surprised for I'd never even heard that song before and had doubts about learning it. But the look in my choir teacher's eyes told me she believed in me. When I stood on that stage and sang this as the finale for the Christmas program (with the choir standing behind me singing harmonies), I looked directly into my choir teacher's smiling face, knowing she believed in me. While she might not have known that she was starting me on a path of music ministry where I would serve and sing throughout my schooling, then weddings, funerals, choirs, and solos as an adult, her beaming face was my inspiration.
Sadly, while I have still enjoyed ministry, in the last decade, my face has shown weariness and discouragement at times, especially around Christmastime, as I have faced several health issues that have interfered with not just my ability to sing, but sometimes even to talk. One particular Christmas, I had lost my voice for five days due to acid reflux, but continued to drag myself to work and do the best I could with a whisper. But by the time I got home from work on Saturday, I was exhausted and went to bed early.  When I woke in the wee hours of the morning with a coughing spasm from more acid that wouldn't calm, I got up and turned on a Christian movie. When the choir started singing "O Holy Night," I got really annoyed and whined to God saying, "I was supposed to be singing that song later tonight for our church's annual Christmas program." All of sudden, I heard a reply back, "Well, you went to work with no voice!"
I was shocked, but I knew God was right. I had pushed myself to go to work, with or without a voice. But now I was assuming that my lack of a voice (not more than a whisper) was an excuse to not go to church. Again, as with the snowman sweater, I was ashamed of myself, and I was sure I heard God whispering sweetly to me, "It's My Birthday! Aren't you going to celebrate it with Me?" All of a sudden, I realized God was calling me to have faith, to trust Him, and obey.
During the morning service, our pastor preached about the shepherd's response to Christ. Internally I recognized for the first time that "O Holy Night" was actually the shepherd's song: "The stars are brightly shining", proclaiming, "It is the night of our Saviour's birth!" And the shepherd's response was to fall on their knees, afraid, overwhelmed, and not knowing what to think except to simply trust that God was bigger than they were. I also remembered that the song had been written in the Civil War era, a time of unrest, and when the author penned, "Truly He taught us to love one another," the song was a call to a higher level of thinking, that with God, we can overcome any challenge.
So, I prayed, gargled, and drank warm tea that afternoon, not unlike what I'd done all this week, without any change. That night, even though I could only whisper, I trustfully and prayerfully walked to the microphone and simply opened my mouth. And God sang through me as I stood there in His power, knowing there was no other explanation for how I was able to sing.
And while I sang, tears of joy flooded the faces of the congregation, as they also felt the miracle unfolding. Later, individually they shared how God had encouraged them to face their current challenge with the belief that He is all-sufficient, so they don't have to be.
So, what do you need more of this Christmas? If you need more hope, give hope to others. If you need courage to face each day, encourage someone else. Look for ways to positively affect the faces of Christmas all around you, and watch God meet your needs in the meantime, for He is the God of miracles!