July has some fun national food days. There's Ice Cream Day (7/15), Milk Chocolate Day (7/28) and of course Tequila Day (7/24). Though it might be fun to see how we could make tequila healthy, I thought the best approach would be to help you celebrate National Fresh Spinach Day-July 16th.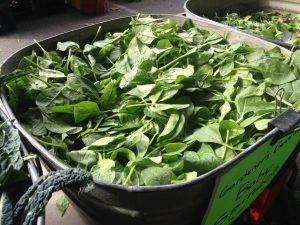 First, Why Eat Spinach?
Vitamins: Spinach really is one of the healthiest veggies you can eat. Just 1 cup of raw spinach contains 56% of the Daily Value (DV) for vitamin A and 15% DV for folate. It gets a gold star for more than 100% of the DV for vitamin K and 14% DV for manganese. Vitamin K is needed for blood clotting but also plays a role in bone health and prevention of soft tissue calcification.
Anti-inflammatory/antioxidant nutrients: Spinach contains two carotenoids—lutein and zeaxanthin, which are essential for eye health at both ends of the age spectrum. Grilling this summer? Grab some spinach. Spinach is a rich source of chlorophyll, which is believed to protect your body from possible cancer-causing polycyclic aromatic hydrocarbons (PCAs) and heterocyclic amines. Those are chemicals formed when grilling animal protein over high heat, especially when foods are charred.
Calorie to nutrient ratio: Fresh spinach gives a lot of bang for the buck nutritionally. It has only 7 calories in one cup! Cook it up and the nutrients become even more concentrated!
Spinach is Versatile!
 Eat it every day with these ideas.
In a smoothie. If you've ever tried a green smoothie, you know that both pineapple, banana and other berries mask the flavor of the greens very well. And you get all that nutrition with just the push of a button.
In a wrap. It's so easy to slap some fresh spinach on your toast, sandwich, wrap—or even your burger!
In a salad. Now that you can buy a large container of organic spinach at your local Walmart, there's no excuse for not eating spinach salad at home! The perfect light and easy summer supper is a spinach salad with grilled salmon or canned tuna on top.
And it's almost impossible to find a restaurant that doesn't have a spinach salad on the menu. In fact, you can even find fresh spinach at your local Subway sandwich shop and probably mixed in with baby greens at Chick-Fil-A.
Toss with pasta. For an incredible touch of green, toss fresh chopped spinach in with your hot pasta just before serving.
On pizza. One of my all-time favorite pizza flavors is spinach with feta cheese. OK, so it's not really raw when it comes out of the oven, but almost.
In pesto. Out of basil? No worries, you can sub in spinach and parsley or any mix of green herbs with your spinach. And what a delicioso way to get your spinach!
Toss a few leaves in your scrambled eggs or omelet. More of an over-easy on toast type? Put the spinach leaves on your toast and slip the just-cooked eggs on top.
In a wilted salad. Using a warm vinaigrette over a spinach salad with strawberries and pecans gives salad a new twist. Often the warm vinaigrette has bacon—use nitrate free if possible.
For more ideas on ways to eat your spinach and other veggies:
Photo by NeONBRAND on Unsplash
---
Other articles you may be interested in: