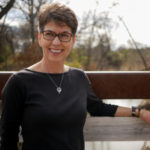 Elisa Juarez is a writer, blogger, and foodie. Her first book, Soul Salsa – Learning to Savor Every Season, was released in August (2020). It grew out of her blog, Spoonful of Salsa, which is an expression of her passions for writing, cooking, and healthy living. Her motto is "Live well, eat well, be well," which connects to her mission: to uplift and empower women through wellness, creativity, and self-discovery. She has led workshops for women and served as women's ministry leader at her church.
Elisa has a B.A. in Psychology and a Master's degree in Social Work, plus over 30 years of informal education in nutrition, wellness, and personal/spiritual development. Her work experience includes counseling, community education, volunteer coordinating, recruiting, marketing, and retail management.
In addition to writing, Elisa enjoys reading, cooking, yoga, meeting new people, wine-tasting, and doing crossword and jigsaw puzzles. She and her husband, Art, are happily married and live in Mansfield, TX. They have two grown daughters who are also avid writers and cooks.
You can find Elisa's blog at www.spoonfulofsalsa.com.
You can read her articles here.