As discussed in last month's article, each season can represent an opportunity to discover, accept, and/or appreciate God's perfect timing and acknowledge our own lack of control over such.  As promised, in this month's article, we will explore more fully the trap of longing for the future to the extent of missing out on today and some solutions.
As healthcare providers, we also know that focusing only on the future and the resultant stress can also damage your health. According to one author, "worry, quite literally, has the power to kill us", in an article published this summer by Fox News. The author goes on to say that "the word worry has at its roots in an Old English word that means to strangle or choke. When I read that article, I couldn't help but think of all of the weeds we discussed in last month's article that try to creep into our lives and choke out the good crop. It would appear that even worrying about the future is one of those weeds. But there are also other weeds and even bigger rocks that might need to be cleared out.
When our children were little, the activity I looked forward to more than any other was our annual church ladies retreat, usually at a local hotel with an indoor swimming pool. I was normally the earliest to check in and often swam for hours before the rooms were even available. At that point in my life with four little ones, I came for some peace and quiet and a chance to be pampered by not cooking or cleaning up. Of course, I also loved the fellowship with other women and was hungry to grow spiritually and find more balance in my life. But most years, I just attended, listened to the teaching, and then returned home, unchanged. But I was transformed one year, when God un-expectantly revealed a life lesson to me.
As our first speaker took the stage, she began a dramatization about the seasons of life. As her presentation opened, she was holding a large tree limb with many small branches, each filled with leaves. She was bouncing up and down pretending to be a little girl in elementary with her jump rope, happily talking about her life and friends and school, but then she got mopey and said, "I wish I was in middle school because I will be able to do so much more and it will be so much better, then". As she said the final word, the speaker then pulled off a small branch with leaves, threw it aside and dropped her head, then slowly turned around in a circle to complete that scene.
When she faced the audience again, she began her monologue by describing all the great activities she was now involved in and seemed happy enough, but then she began to feel sorry for herself and said, "I know I finally made it to middle school, but I've heard high school is when the real fun begins; it will be so much better, then".  With that thought, the speaker then pulled off a small branch with leaves, threw it aside and dropped her head, and slowly turned around in a circle.
As she turned back toward the audience, she continued, "I know I'm in high school, but I've heard college is where the real opportunity begins, for I will have much more freedom; it will be so much better, then". With that thought, the speaker pulled off another small branch with leaves, threw it aside and dropped her head, and slowly turned around in a circle.
Soon, the actress empathetically described how she was going to be really happy when she got into the specialty program she wanted at college or for sure when that special boy actually proposed and she got married. She pulled off more branches with their luscious green leaves and whisked them aside.
She went on to describe that as exciting as the pregnancy was and as much as she loved her child, she just wished the baby would sleep through the night, for she was simply too tired to get up for work each day (more leaves pulled off). Then she wished for the baby (now toddler) to be out of diapers, surely that wasn't too much to ask (more green tossed aside). Soon she was wishing that her little ones would quickly learn to read or memorize their multiplication tables (still more leaves plucked).
During the middle-school years, she wished the kids didn't have so much homework, for she felt she was back in school. She complained of being a taxi driver and thought if they could just learn to drive, graduate and leave home, she could have her freedom back (more green plucked).
She then wished her children would hurry up and get married. Surely, she would be even happier when she finally got grandchildren. But with every new scenario she played out in her head, while she physically removed more branches and leaves, she didn't realize had been wishing away the most precious gift within her heart, the gift of her own time. Before too long, she was a widow, alone, sitting in a chair holding a bare branch with nothing green in her life, lonely and wishing she had something to do, for now all she had was time.
As the dramatization came to a close, hardly a dry eye was in the room, for it was filled with women who felt the sting. I recognized my similar coping methods hadn't worked. Instead, all the wishing away had only stolen the joy of living contently each day! That day, I consciously decided to quit wishing and start accepting the gift of each moment.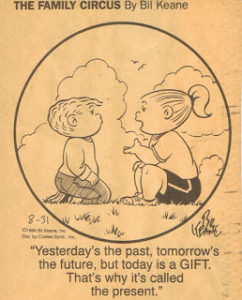 Though it is unclear exactly where the idea originated, Bill Keanes, the famous cartoonist for his
Family Circle, is often credited for the reminded America of the need to live in the present from a cartoon he drew decades ago.
Interestingly enough, when our youngest was in high school, she gave me a plaque one year with the same saying, just in case I needed a reminder.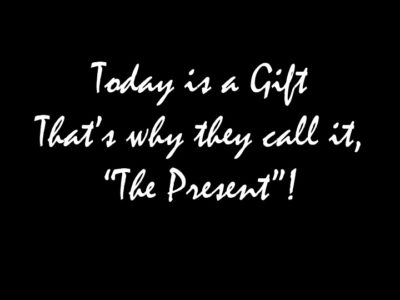 Ready to spring-clean your life? Here's an article with some ideas and individual steps. For me, whether professionally or personally, I have found that taking inventory on my life, looking at my objectives and goals and then comparing them to my activities is a great place to start. Do they line up? If not, one of them needs to be changed.
While I was super busy as a young mom, each new season has also brought different challenges. Today, while my aging siblings and friends often face abounding health challenges, our grandchildren are also growing up and have changing needs. As I stretch to meet both spectrums, I personally can only rest in knowing that God who created the seasons is also working good within this perplexing time.
Occasionally a song will resonate with all generations because of the powerful truths within. A song by the musical group, The Byrds, from years ago, is such a song, as the lyrics were pulled from the writings of King Solomon, the wisest man who ever lived, reminding us that there is a time and a season for every purpose under heaven!
Do you feel frazzled? Are you in the springtime of your life, just beginning your professional career or family? Have you identified the special blessings of this season and gifts that are unique to you? How can you best serve others while caring for yourself in this specific season? Maybe you are more experienced and find yourself in another season, but still not content, trying to rush up the next season of your life, possibly fighting against the forces of nature? Do you know if you are serving from your strengths or your weaknesses? As you evaluate your current situation, I hope you will find peace in the particular time and season in which you are currently serving and fine the way to enjoy your life to the fullest, each and every day!
"For everything there is a season, and a time for every matter under heaven: a time to be born, and a time to die; a time to plant, and a time to pluck up what is planted; a time to kill, and a time to heal; a time to break down, and a time to build up; a time to weep, and a time to laugh; a time to mourn, and a time to dance; a time to cast away stones, and a time to gather stones together; a time to embrace, and a time to refrain from embracing; a time to seek, and a time to lose; a time to keep, and a time to cast away; a time to tear, and a time to sew; a time to keep silence, and a time to speak; a time to love, and a time to hate; a time for war, and a time for peace. What gain has the worker from his toil? I have see the business that God has given to the children of man to be busy with. He has made everything beautiful in its time" (Ecclesiastes 3:1-11a, English Standard Version).