Spending summers in Jordan probably doesn't sound like a vacation to most. After all, isn't the Middle East a hotbed of unrest and turbulence?  Not so Jordan. Although it's surrounded in every direction by conflict (troublesome neighbors!) – Iraq to the East, Syria to the North, and Palestine/Israel on the Western border – Jordan is a safe and quiet haven during troubled times.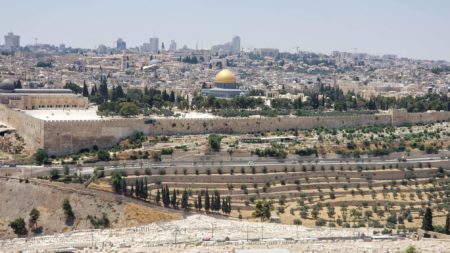 Short trips to amazing cities- Nearby Jerusalem
I find it a welcome and necessary respite from life stateside. Work takes precedence over all things back home, whereas Jordan offers a healthy balance with a strong societal emphasis on time for family and friends. It can certainly be hectic and stressful, especially driving where rules are creatively maneuvered around. Despite my frequent frustrations I have to admire drivers' ingenuity. Kudos to Great Britain for introducing roundabouts. They might work beautifully in Jolly Old but here it's every driver for himself. It seems Jordanians missed the 'taking turns' rule in kindergarten.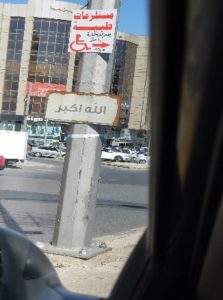 Allahu akbar 
Signs at intersection remind drivers to remember God (and hopefully chill).
But on the plus side, the weather this year has been great. Our cool mornings and evenings continue with moderate heat during the day while much of the world suffers record high temperatures. In Dallas the a/c comes on often as early as April and can remain running 24/7 into October. What a joy to leave the windows open wide most of the summer days here. I willingly pay the price with dust everywhere. But then the dust manages to find its way in regardless of my efforts.
Locals and visitors can chill out or exercise in any number of spots. Salt Caves, traditional style Turkish or Moroccan hammans (baths), and there are state of the art gyms in every neighborhood. I even found some aqua yoga and aerobic classes in a nearby exercise facility. I am encouraged to see the populace becoming more interested in fitness.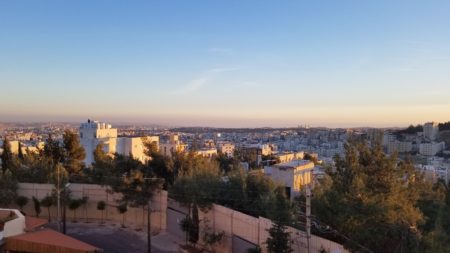 We all have our sacred spaces. It can be the library, a coffee shop, a small quiet alcove. I find mine in nature. Although the sounds of the city and neighborhood kids can occasionally disrupt the quiet, my balcony is a place of repose and meditation. I regularly offer my 5 daily prayers there. I watch as light changes the city scape below me at sunrise and sunset, observe the rising and setting of the moon in all its various stages and enjoy quite a few rounds of celebratory fireworks from up on my perch. The thousands of photos in my Jordan album are a testament that I can't seem to get enough.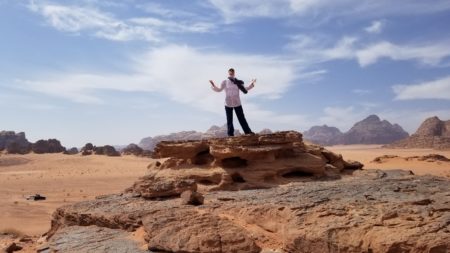 Jordan also is small enough, and Amman not that large a metropolis for easy and quick access into the natural world and archeological sites. Wonders of the Ancient World like Petra and other-worldly areas such as the desert scapes of Wadi Rum in the south, cool pine forests of Ajlun in the North, and both the Dead Sea (less than an hour outside Amman) and the Red Sea of Aqaba are easily accessed in a few hours.  There are plenty of caves to explore.  Castles dot the landscape throughout the country. Scenic wadis (valleys) and caverns carved through the mountains with clear, cold water offer a climber's paradise. In downtown Amman one finds an enormous Roman Amphitheater (concerts there are amazing!) and the famous Citadel, site of numerous ancient civilizations, sits proudly overlooking all. And what fun to explore a traditional Arab Souq in the Old City.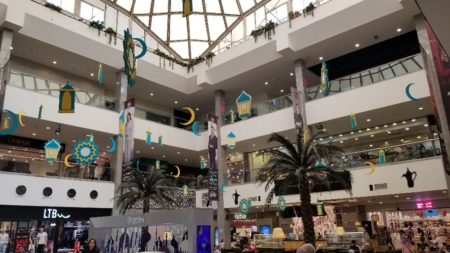 City Mall, Amman
If you want the modern, more Western accommodations, they are here too. Each year I find more new malls that can rival any in the US and restaurants offering upscale world cuisine. Tourists can pick and choose from the 5 star hotels throughout Amman, the Dead Sea, Petra and also Aqaba, a popular destination for tourists and locals with abundant fresh seafood, water sports and glass bottom boats to view the coral reefs if you're brave enough to bear the summer heat and humidity that proximity to the Gulf brings.
Food, Glorious Food!
Something I will miss terribly is the fresh food, particularly the fruits and veggies. Somehow this rocky clay and limestone soil produces the most amazing and diverse crops and orchards.  When I see the Bedouin minding their sheep, I can't fathom how the scraggly plants and cactus they feed on turns into such delectable, tender lamb and sweet yogurt. In Abrahamic tradition it is well known that this patriarch and other righteous individuals made many supplications to bless these lands.  It still holds true today that the region is one of baraka (blessings) and plenty.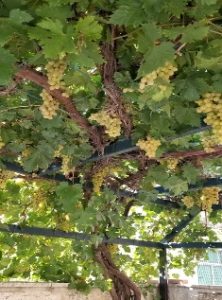 Grapevines in the patio area at my in-laws.
After the rather flat landscape of North Texas, I have to navigate sizeable hills just to leave my apartment. Streets are seldom straight, parallel or perpendicular but follow a more circuitous route. All this makes life a bit more challenging but it certainly keeps me on my toes and delights the eye with the myriad of stores and shops that line the streets. Zoning out as I drive is simply not an option!
Many friends offer prayers and worry about safety. As a woman I am far less concerned or alert to where I am at any given hour of the day and especially the night.  It's not an Islamic tradition by any means but Jordanians, like many in the Middle East, are out and about all hours of the night during the summer. Businesses remain open far longer into the night and most public areas are filled with couples, families, teens and plenty of small children.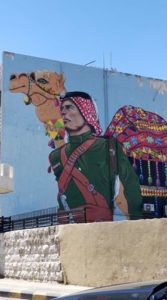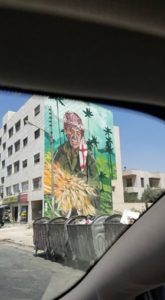 Wall murals depicting Jordanian traditions adorn buildings throughout Amman.
Of course as a Muslim I am in my element here. The Call to Prayer resounds loudly from every minaret five times daily. Hijaab is never an issue.  Islamic rites like the daily prayers or fasting in Ramadan are the norm. Islamic pleasantries and greetings permeate conversations and I don't have to think twice about translating for non-Muslim friends. Islamic holidays are celebrated by all those around me and are doubly festive and thoroughly enjoyed.
A lot of what I love is right here. It makes me no less American or less loyal a citizen. But Jordan is definitely a place to relax, regroup, re-energize. To wonder, to be in awe, to contemplate life today and life long ago; to find God in the quiet and peace of natural surroundings or to feel insignificant in the midst of the majestic spaces of Wadi Rum. To be grateful for my life here and its different but no less bountiful blessings in the US. I hope to return renewed, refreshed.