What do you envision when you think of Christmas? According to the classic by Clement C. Moore, children have "visions of sugar plums dancing in their heads." I have yet to see a sugar plum, but I do remember many happy Christmases as a child. There was always an apple, a few nuts, and some hard candy in our individual stockings, as well as a few presents under the tree. But as much as I loved delving through the Montgomery Wards' Christmas catalog and dreaming, I can only remember a few of the presents from those days.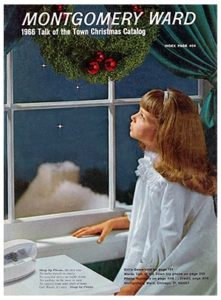 What I do remember are the feelings of love and security that my family provided! Whether we were dirt poor farmers (without running water or electricity in the early years), or city kids when our father had gotten a job at airplane manufacturing plant, we were a family that spent time together in work or play. The holidays were simply an extension of that love and a special time to make crafts, play games, decorate the tree, sing Christmas carols, or cook up some yummy food while the focus was celebrating our Savior's birth with a grateful heart!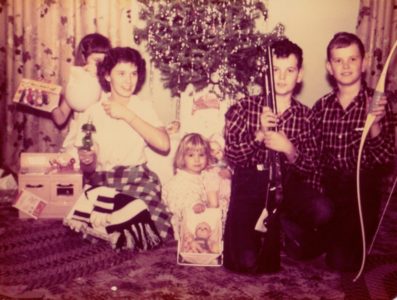 But you might wonder, how can anyone celebrate Christmas this year, when so many Americans are still hurting from the results of hurricanes, floods, illnesses, job losses, and senseless attacks on mankind? Yes, there are a lot of hurting people in America, maybe more than we've ever had in the recent past, and their faces are showing the weariness. They do want to celebrate, but they are still focusing on surviving every day. What is the best way to minister to these hurting people? Acknowledging them, their family, their traditions, and supporting their interests and needs with an act of kindness is a great place to start. You can also be a beacon of light by encouraging others, by providing something that otherwise they would have to do without.
I know, because over three decades ago, our family faced obstacles in which life seemed to collide with Christmas. Over a two-Christmas span, one preschooler broke her leg, had a nasty cut directly on the eyeball, and a second-degree burn on the leg (because the patch limited her vision and she walked directly into the grates of the bathroom heater.) Another child was hospitalized with pneumonia. I spent a week in the hospital, then four-weeks on bedrest. And my husband was also laid off from his job, just a few days before Christmas. Finally, all of our preschoolers (except the baby) contracted Scarletina, which put us all under quarantine for Christmas.
But when we couldn't go anywhere and celebrate Christmas, because of the generosity of others, Christmas came to us! I'll never forget the Christmas Eve when we got a knock on the door and found a puppet stage set up on our front porch who were singing Christmas carols. At the end of their program, Santa Claus appeared and came into our house with presents, including a puppet for each of the children (like the ones that had just sang to them, only smaller versions.) Next, he gave the boys a football and soccer ball and the girls some dolls, with a book for each of them. Santa even had gifts for us as parents and brought food as well. (Thankfully, neither Santa nor the puppets caught Scarletina!)
In the following months, our children began doing puppet shows at the local nursing home where my husband's grandmother was residing, first just in her room, but soon, in the meeting hall for all of the residents. In fact, our not yet two-year-old daughter, April, when asked if she wanted to sing along simply replied, "No, I don't sing in front of people, but my puppet can sing!" And sing that puppet did, not knowing that one day, she (our daughter, not the puppet) would be passionate about music and record an album of songs she had written from her heart. She would also become an excellent musician, sing solos at church, and lead music for Vacation Bible School and play the piano for Sunday evenings at church.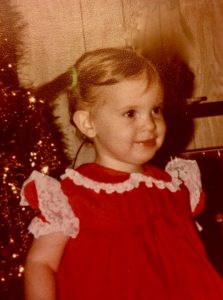 Her sister, Mindy, would join her oldest brother, Clint, and other King's Kids from our church later that year, to sing on a children's album called "God Sent His Son." In December of the same year, she would sing a solo on stage at the Tarrant County Convention Center in the Greater Fort Worth Christmas Pageant.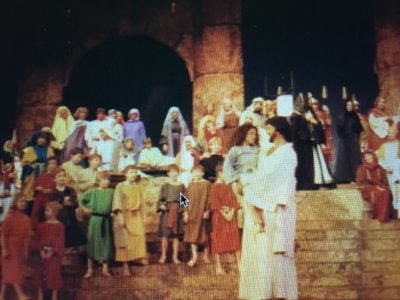 As she became an adult, Mindy would serve in a variety of choirs, within worship teams and as a soloist, and eventually have her own Christian ministry talk show for a season, Bring It Radio: Walking with Jesus in Our Everyday Lives.

After the puppet ministry years, our children served in other ways: Vacation Bible Schools, nursing homes, soup kitchens, music ministries, and clothing stations. Our two sons began helping their grandfather with a food bank, and our younger son, Craig, felt called that one day, he would start his own food bank.
Both boys then learned the basics of audio/visual technology and were soon volunteering to run sound for football games, youth events, church services, funerals, and even weddings, again because someone else took the time to gift them, to teach them the basics. Eventually, Craig, would start his own business/ministry and spend the next decade installing audio/visual systems in churches all across America.
But Craig never forgot his dream from his youth! So, one year ago, Craig bought the Old Nocona Boot Factory, and he and his father started remodeling the 100,000 square-foot building to ultimately combine Craig's AV business with his desire to serve by creating a boot store, main stage, and food bank.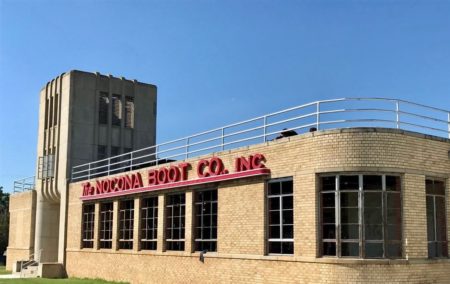 Last December when the Hope2911 Food Bank was launched a couple of days before Christmas, KFDX Texoma News was there to highlight it. On that day, we met those in need, not unlike our family's needs from decades before, who simple desired something nice for their loved ones around Christmas. Since then, we have had people come from as far away as from Bull Shoals, Arkansas to get help, but the faces we see regularly are the 600-800 people each week from around North Texas that have come to depend upon our ministry as a gift in the midst of challenging times.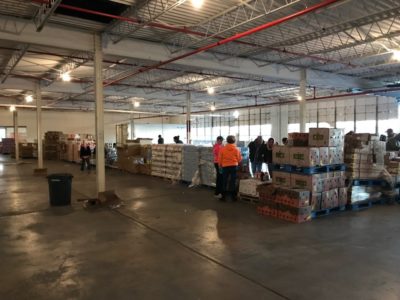 Our oldest son, Clint, took his love for music and a call on his life to ministry, and has devoted his entire life to Christian service. When he was six years old, he started sitting at the piano, hunting around the keys to find the Christmas carols. Within a month, he could play the melody of 22 carols. One day a church member was just was walking down the hall and happened to hear him playing. She went home and began to pray with her husband about this young boy and soon felt sure God was leading her give him free piano lessons.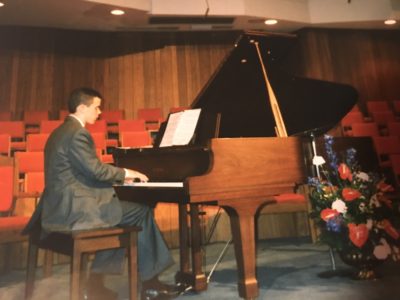 God would then supernaturally provide lessons through two Christian teachers for the next 12 years, and Clint would then go onto college on music scholarships. He also had the privilege of making a CD with his glee club while at Oklahoma Baptist University and eventually completed one undergraduateplus two master's degrees as he trained for his profession.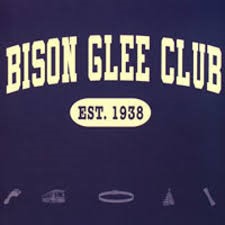 Over the last couple of decades, he has continually served as a music minister, church planter, and/or youth pastor, including walking through the aftermaths of a hurricane with his community over the last several months, as described in a previous article.
As you can tell, the struggles our family faced all those years ago actually opened up more possibilities than we could have dreamed. And the gifts those puppets left, far surpassed the physical ones they gave that day. The puppets' gifts came from hearts of service, love, and hope from the puppeteers and gift providers, but likewise sparked such in each of our children who started their own ministry to serve others. And now, there are generations of musical gifts flowing, as we have grandchildren who play the violin, viola, bass, clarinet, piano, and/or cello, plus the rest who simply utilize their voice as their instrument, all in the service of others.
Just as the wise men brought gifts to Baby Jesus, Christmas has always been about giving, for Christ was the gift! So, who are you going to reach out to this Christmas? Those that are suffering, downtrodden, hungry, heavy-hearted? What will you share? Will it be time? Food? Gifts? Talents? Prayers? How will you bless them? Will your children have the opportunity to be involved? It's an exciting journey to intentionally be a part of your community, and I pray each of you will find that gift. Only time itself will tell what the gifts you offer up in love this Christmas will ultimately produce, but it all starts with the gift of HOPE, hearing others and provide encouragement by sharing their load!
H-Hearing
O-Others
P-Providing
E-Encouragement