How many of us set goals and have lists of projects, action items that have completion dates and interim steps in our journals, whether on our computers or some other electronic device/system?? Most of us are "trained" to set life goals and keep track of how we are progressing, day to day, month to month and year to year.
But how many of us set INTENTIONS and set goals and truly understand the difference??  Goal setting and project management are "hard science" /action based functions that keep us focused on a future event(s); keep up on plan; to stay on track. Goal setting is very good and we all need that skill, but there may be a nuanced difference, as goals usually mean that we are reaching for something we don't have, yet. And for some, who may not reach their goals, it can lead us to feeling like failures.
What if we could set our daily/weekly intentions that keep us focused and in the moment, while we are stretching to meet or exceed our goals? What if we can set our daily intentions that will help us reach our goals? Intentions that speak to our purpose, our passions and natural gifts/strengths that can support our action-based goals. It's a small difference in the way we think and feel about our work and our impact on the world around us. Intentions aren't to be confused with goals: They are about who you want to be, your values, and what you wish to share with the world around you and how you want to impact the lives of your clients, your neighbors or your family.
Intentions are not measured in the same way as goals. There is no timeframe set, per se.  If I set an intention to feel more gratitude in my day and do so daily, that feeling will be pervasive in all that I do. It may give me positive energy that just may make me complete one or more of my daily goals!!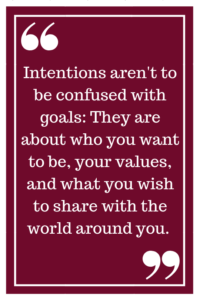 Intentions can be set to allow us to see beyond our goals that are time based and action based. An intention to continue to learn and grow in a certain field of work, can support you  today and five years from now, perhaps helping you move ahead in your business or career in ways that you could not see at the time. My intention to seek more information about the neuroscience of language and decision making has changed my wealth management business in ways that I could not have imagined just 3 years ago! Frankly, I did not know that that specific science could impact my world in the way that it has!
Finally, setting intentions can "soften" the hard driving world around us and yet, keep us focused on reaching out for success, and with that success, will come a feeling of both gratitude and abundance as we have set daily, weekly intentions that speak to our personal passions and purpose and our WHY we want to reach those BIG goals.
Give it a try and see how Intentional Living can impact your Success!
---
Marilyn Suey is a registered representative with, and securities offered through LPL Financial, Member FINRA/SIPC. Investment advice offered through Strategic Wealth Advisors Group, LLC, a registered investment advisor.  Strategic Wealth Advisors Group, LLC. and The Diamond Group Wealth Advisors are separate entities from LPL Financial. CA Insurance License #0E01981. The LPL Financial Registered Representative associated with this material may discuss and/or transact securities business only with residents of the following states: California, Colorado, North Carolina, New Jersey, New York, Ohio, Virginia, Nevada.