I don't know about you, but I'm ready for some good news! The pandemic has led to all sorts of heartache and loss, to put it mildly. Being restricted from our usual active routines and "zooming" too much has led to weight gain, a drop in overall physical and mental health, as well as an increase in drinking alcohol. (In fact, a recent study done at UT Health Science Center School of Public Health showed that during the pandemic, binge drinkers drank even more the longer they were in lockdown.)
Now it's time for some good news about holiday eating and drinking. So let's say you have drunk your fair share of red wine this holiday season, and of course, what goes best with wine? Some cheese of course! I'll be the first to say moderation is key, but let's look for the silver lining here!
An interesting Iowa State University study of almost 1,800 adults aged 46-77 in the UK examined the results of Fluid Intelligence Tests done over a 10 year period. This test basically looks at a person's ability to "think on the fly." Study subjects also were quizzed on their food and alcohol consumption at several times during the study. Surprisingly, cheese was shown to be the most protective food against age-related cognitive decline. The daily consumption of alcohol, especially red wine, was related to improvements in cognitive function, as was weekly consumption of lamb. Those at risk for Alzheimer's, however were affected negatively by excessive consumption of salt.
Many studies have pointed to a Mediterranean style diet for reducing the risk of Alzheimer's (and other chronic diseases) and keeping the brain healthy. This highly ranked diet has an emphasis on fish, olive oil, avocados, fruits, veggies, nuts, beans, whole grains and red wine (in moderation). (Hopefully you have also had your share of brain boosting nuts, guacamole and whole grain tortilla chips in the last few months, along with lots of veggies to dip them in?)
Fish is Brain Food. You've probably heard this before, but there really is truth to it! A large study by the National Institutes of Health found that fish was the single most important dietary factor in lowering the risk of cognitive decline and cognitive impairment. (FYI-cognitive impairment is the risk that 10 years from now, your cognition will be worse than your peers. Cognitive decline is the risk that 10 years from now your cognition will be worse than it is now.) Vegetables were the second best at lowering your risk of the dreaded brain drain that sometimes comes with aging. Unsure about which fish to eat? This chart and other advice from the FDA can help, as can www.seafoodwatch.org, where you can download a guide for choosing sustainable fish. choices.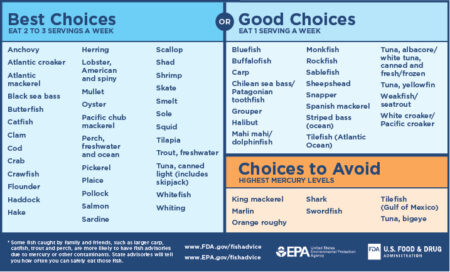 We can't do much about what happened during the pandemic, but we can choose to eat better in 2021! Cheers to Eating Well!
Footnotes:
SM Weerakoon, KK Jetelina, G Knell. Longer time spent at home during COVID-19 pandemic is associated with binge drinking among US adults. American Journal of Drug and Alcohol Abuse, Dec. 7, 2020; DOI: 10.1080/00952990.2020.1832508
 Klinedinst Brandon S et al. Genetic Factors of Alzheimer's Disease Modulate How Diet is Associated with Long-Term Cognitive Trajectories: A UK Biobank Study. Journal of Alzheimer's Disease, 2020; 78 (3): 1245 DOI: 10.3233/JAD-201058
 Keenan TD et al. Adherence to a Mediterranean diet and cognitive function in the age-related dye disease studies 1 & 2. Alzheimers Dementia 2020 June;16(6)831-842.