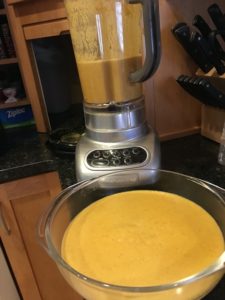 Baby it's cold outside…and that probably means you're planning to eat something warm and delicious (and perhaps high calorie) to chase the chills away. We know how all the calories add up over the holidays. Let's not forget that there are often fewer opportunities for fitness in December—who wants to walk outside when it's dark, cold or rainy, after all? And when there's so  much shopping to be done, there's less time to hit the gym. In the case of shopping, it really is better to shop "brick and mortar" even though shopping online can be quicker.  More screen time means more time sitting—we know how that "ends" –hello wider hips at the end of the season!
So what's your comfort food splurge for winter? Hot chocolate or Chai tea latte? Creamy soups? Chocolate? I've got some tips for lightening those favorites to keep the added holiday pounds away.
Hot Drinks
I'm a sucker for Chai tea latte, and also love hot chocolate, with of course, whipped cream on top! I learned a trick recently when ordering tea at Starbucks. Chai tea lattes (and other milk-based drinks) are usually made with lowfat-2% milk, unless you specify otherwise. Switching to nonfat milk and getting fewer pumps of the syrup (standard is 2 in the Short, 3 in the Tall and 4 in the Grande) will save you about 40-80 calories, depending on the size you order. Probably the biggest calorie savings is from ordering one size smaller than usual—so ordering the short instead of the tall saves 70 calories and if you make the above changes too, you'll save about 100 calories total. It all adds up!
If you're a steamed milk fan, check out the Skinny Cinnamon Dolce Latte, which uses steamed nonfat milk and sugar-free cinnamon dolce syrup. The nutritional bonus is 9 grams of protein and 30% of your daily calcium needs—which could be in short supply when eating on the run.
Soups
Creamy potato soup is definitely a top comfort food, and who doesn't love pumpkin this time of year? Here's a great recipe for Pumpkin Curry Soup, which gives you the creaminess  with just 11 grams of carbs. Nutrition bonus: 220% of the Daily Value of Vitamin A (great for skin and eyes), 5 grams of protein and 3 grams of fiber. I use lowfat or Nonfat Evaporated Milk to save a few fat calories. Watching your sodium? Use low-sodium chicken broth.
Other Blended Soups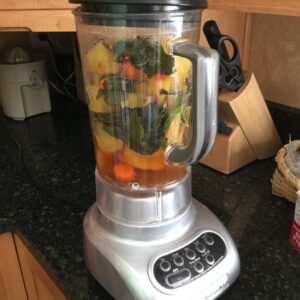 Our big secret for getting our kids to eat their veggies when they were little- blended veggie soups! They're easy to make and don't even require a recipe. Just use 1- part potatoes with 2 parts cooked veggies. You can use any combo of veggies: a great way to use leftovers! One of my favorites is broccoli with carrots. Add milk or broth as needed while blending and add seasonings like garlic and onion powder or salt, pepper and optional American cheese. If you blend while hot, the cheese melts right in. Yummmmmy!
Chocolate
Chocolate fixes are sometimes required during the hectic holiday season. The easiest and guilt-free way to cure your chocolate craving is with a chocolate kiss. The real trick is just eating one. If you're a hot chocolate fan, there's good news—the combination of cocoa and milk really is good for your heart! Undutched cocoa has the most heart-healthy antioxidants (called polyphenols), which have been shown to lower blood pressure, reduce inflammation and cholesterol levels and may even cut your risk of heart attack and stroke. The healthiest drink starts with cocoa and milk for healthy bones.
Healthy and Happy Holidays to You and Yours!