As we thought about this topic for Plaid for Women this month, there were many ideas about how to describe one's team. In our world, we have a team of colleagues that we call our Centers of Influence, who "play and work" alongside us to support our mutual clients, who are business owners, health care professionals and of course their families. In our client's world, we suggest that they have their own team of advisors, who support their financial decisions over the course of their lifetime.
Let's take these one at a time. In our business, we like to have two to three colleagues that we can ask to join us in advising a client in the areas such as: mortgages/lending, real estate procurement or sales; business banking; estate planning and special needs planning; elderlaw; business law;  business and personal accounting; and other expert arenas that may come up as we support our clients to define, design and build their  Financial House.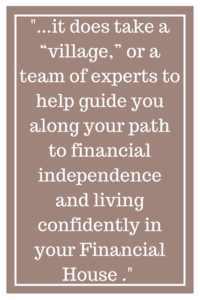 We take a long term, comprehensive view of your Financial House over the many stages of your life's journey. You may have different experts on your team over your lifetime, as you need and desire. Generally, we see that our high net worth  business owners and families have at least three- four people on their team ranging from their CPAs to their business and estate planning attorneys, along with bankers or mortgage/financing specialists depending on business needs.
In my personal and business world, as a Wealth Manager, I have at least four experts on my team: 1. CPA and her team; 2) my estate planning attorney; 3) my business attorney and 4) my two bankers, so in fact I have 5 advisors!   As each of us builds our Financial House, regardless of career, we have found that families need outside support from a team to make those "Big Dreams" become a reality. I can attest to the fact that I own my dream business supporting our clients to work toward their biggest dreams.
We would advocate for our clients and our colleagues to add to their team of experts as they traverse their journey of life and lifestyle. As we have heard from many it does take a "village" or a team of experts to help guide you along your path to financial independence and living confidently in your Financial House that you built and designed for your lifetime.
---
Other articles you may be interested in: